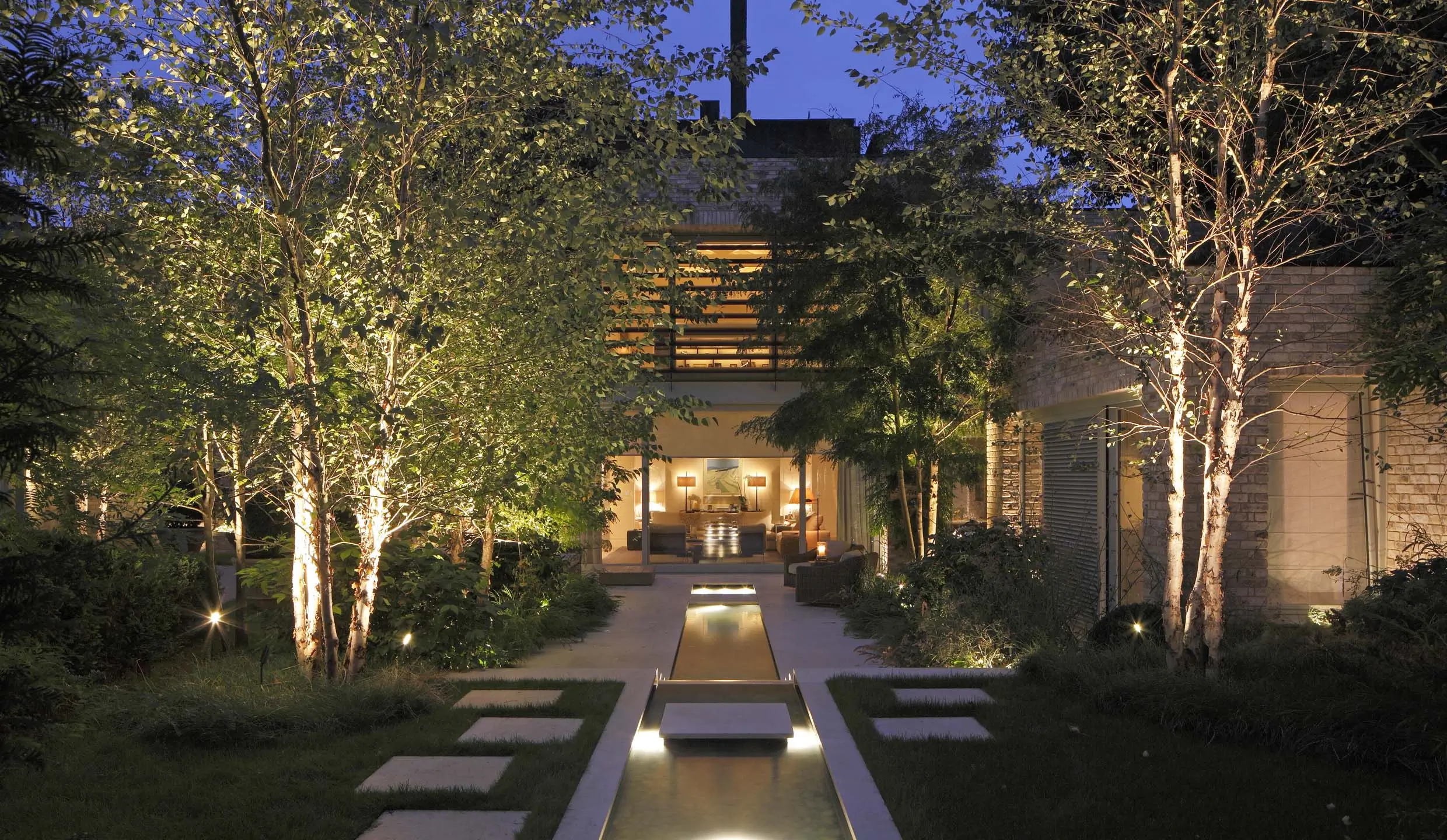 NEW BUILD PROJECT LIGHTING
Case Studies
Lighting a new build is the chance to work with your blank canvas to create an inspiring and bespoke layer of design for every client. For a lighting designer, the fresh architectural plans are almost a blank canvas for us to create something wonderful with. Although designs may have similarities, such as open plan space, natural light and expansive glazing, every client brings something different to the table. We meet them at the beginning of a thrilling journey and together add the dimension of creative and functional lighting to their new home.
As the video of this new build residence shows, creative and functional exterior lighting is as important as interior lighting. Inside and out, moods are created with light for different areas and varied uses throughout the day.
Here,  we answer key questions about lighting new builds.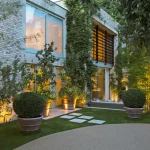 How do you plan lighting for a new build house?
When we begin, we get to know the client – how they live, who will be in the house at what times, what tasks they'll be doing there. After discussing taste and preferences, together we begin to choose, plan, draw a lighting scheme that works harmoniously with their needs, whether it's those of a family or a developer.
We start with room dimensions, noting sizes and heights and how the natural daylight works. The uses of each room and area are different and the lighting design must reflect that. For open plan interlinked spaces, flexible lighting needs to work harmoniously across the whole area.
We like to know as much as possible about the plans – where furniture will go, and even what finishes might be used. Light reacts differently with diverse surfaces. Marble, wood, fabric, pattern and colour all affect how light is reflected or absorbed. The more information we have at the start the better. But don't worry if everything isn't decided yet. We can mock up sketches onto architectural plans for the most likely placement of furniture, and suggest where artworks may work well, or lit joinery such as bookcases and cupboards might sit.
We also think about controls at the get go. Which wiring schemes will be used affects tendering. Electricians and joiners need details to gauge costs. If you're after something sophisticated that will run off a single control system, interlinking with a cinema system, blinds, and under floor heating, we need to plan for that.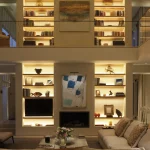 What mix of decorative and architectural lighting do you recommend for a new build?
Every property needs some wow-factor decorative lighting elements. These might be statement pieces like a giant chandelier or a spectacular modern pendant. However, in terms of creating the complete scheme, architectural lighting will do a bigger job. Together they create the illuminating balance that we're after.
The basic need in every home is to ensure sufficient lighting. Even in new builds full of natural light, we must consider dark December mornings and cosy autumn evenings, and how the space can be enhanced with light.
If a room is just lit with one light source: just lamps, just pendants or just downlights, it will feel flat. But as soon as you begin layering, putting two or more elements together, it begins to shine.
As the video shows, we have many options for architectural lighting, inserted in layers at different levels – floor, mid-level, high up. Linear lighting can glow from under kitchen islands, beneath steps, corridors can be enhanced with low level light. At mid-level, table lamps come into their own, as does shelf lighting, plus lit worktops or desks for task lighting. Higher up, downlights or dedicated picture lights can highlight artworks, and architectural beams and architraves can be subtly lit, or attention bought to statement curtains.
In the evening, you want light sources at the level where you're sitting for a cosy feel. Table lamps work well at this time of day. Likewise, decorative wall lights offer a pleasing evening warmth.  Combine these with a soft accent to the centre of a coffee table and uplit fireplace to complete the idea scene.
Our job is to create a balance, both vertically and horizontally. Our demonstration showrooms on the Kings Road, London and in Dubai and Paris allows clients to experience light in action.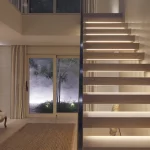 NEW BUILD PROJECT LIGHTING
Case Studies
What are the biggest challenges that you've come across when lighting a new build?
Pinning people down for decisions can be tricky. But we can help by offering detailed designs and even walk-through 3D designs, or simply by reviewing mood images. We want to make each home the best it can be, so the more we know before plans go to tender, the better. Where furniture will go and where shelving, cupboards and kitchen islands will be integrated; all those details help us design a more interesting scheme.
Many new builds are highly glazed. If there's a slope glazed roof and glazing across the whole back wall into the garden, placing lighting can be difficult. With lighting being hard wired, omissions can be expensive to fix. But we will always work with the architect to tweak things to ensure the right lighting works with the design.
If there's a triple height hallway with the stairway wrapping around and glazing at the top, our job is to fill this volume of space with light once the daylight dims. At 3pm on a November afternoon with a storm coming over, the lighting must work hard for you.
But we're passionate about how light makes a space feel and your experience of it. So, we will chat with the design team whether architect, interior designer, client, developer – at any stage about how best to make the lighting work. Even if we get to the tenth round of lighting revisions on a project, our aim is still to make the lighting scheme successful. As far as revisions go, we stack them up and present to the electrician team on site, so that everyone's aware at the same time. It's an organised method.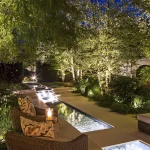 What is the best lighting for exteriors and gardens for a new build?
The first consideration is task lighting. Can you see to get your key in the door? Have you got a bin or bike area that needs light? Next is to create a feeling of depth. Large-scale glazing may offer daytime views to the garden, but can become a dark mirror-like wall at night. Here, consider lighting the immediate external spaces, for example a terrace with low level lights, or highlighting an ornamental bay tree, or sculptured over-size pots as seen in the video, to bring the outside in, even when it's dark.
Water features look wonderful lit at night, offering movement and glow. And deeper into the garden, you may have a beautiful tree that when lit would give a sense of depth and perspective.
And for summer evenings on the terrace with friends, sipping rosé until midnight, you want a beautifully lit space around you. We can put different circuits in place to enable you to extend the view and have a view point, as well as a pleasingly lit usable space.
Structural exterior lighting in porches or on walls need to be planned at the start, but some soft landscape lighting can be easily altered later on.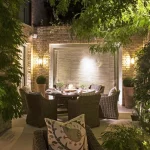 What are the different challenges of lighting a new build compared to doing a renovation?
Our hands are less tied when lighting for a new build, allowing freedom. There are more restrictions with older properties because certain elements can't be disturbed, such as a supporting beam or precious traditional wall panelling, for example.
The trickiest part for a new build is the sheer number of decisions to be made, as every millimetre is new and there are multiple ways to light a space. You need general light, task light, a mid layer and wow-factor decorative lighting, too. For some, making many finite decisions can be quite daunting. But we're here to guide.
Most new builds have combined kitchen/dining/living spaces. Essentially, it's three rooms without any doors. You need separate circuits for each area and to consider the relationship of the lighting between the spaces.
If you're relaxing in the living area at 10pm, you don't want your kitchen lit up for Christmas, but you also don't want it in total darkness as it would feel cavernous and intimidating. We create control options for each area for different times of day, which can literally be labelled Morning, Afternoon, Evening. Family members will be doing different tasks, but all in one big zone. Getting the balance and circuiting right is key.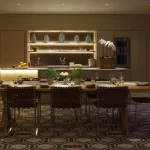 When should I sort out the lighting design for a new build?
The sooner the better. We work with plans and with clients, interior designers, project managers and developers. Our lighting design plans need to go out to tender with the project plans, once all the permissions are granted.
Some elements can be finalised later. You may know you're going to have a joinery unit in a certain position, but aren't sure what it looks like or won't have the budget for it until later. We can plan for this and put in a supply and the final detail can come later.
Most of the time in the UK, you get lovely big voids in ceilings and floors so that you can reroute wiring quite easily, likewise in the Middle East. But with a prefabricated German Huff Haus, for example, there's very little wiggle room as all the feeds are fixed in the factory in Germany, so alterations can be complicated.
Talk to us as soon as your plans are coming together and we can help you plan a brilliant lighting scheme for your new build, adding the wonderful element of practical and creative lighting to your home.
Interior Design:  Todhunter Earle
Garden Design: Osada Design
Photography (images 1,4,5) – Steven Wooster
Photography (images 2,3,6) – James Balston