Controls and Tech Support
Create the perfect ambience for any occasion while reducing your carbon footprint by utilising smart technology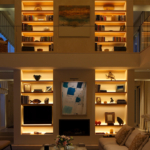 Lighting Controls
A smart lighting control system improves the overall ambience of a space offering enhance control and flexibility beyond conventional manual control.
Cleverly control multiple circuits of both decorative and architectural lighting to create inviting, comfortable living spaces with carefully balanced scenes which can be recreated at the touch of a button. In turn reducing wall clutter.
Automated lighting systems provide users with the ability to set the mood whilst saving energy simultaneously. By utilising smart technology and intelligent programming you can create the perfect ambience for any occasion while reducing your carbon footprint.
Whether you are looking to achieve a vibrant and energetic scene when hosting an event at home, a calm and relaxing atmosphere for winding down in the evening, or a bright and focused environment in the workplace, intelligent lighting systems allow effortless control. They are accommodated to the users' requirements. With a simple touch of a button, a cleverly placed sensor, or even a voice command the space can be transformed to suit the users' particular needs.
Scalable solutions
If you have John Cullen lighting products, we can help you by designing a bespoke intelligent lighting control solution whether for a new build, refurbishment, or a listed building.
We can specify and support a wide range of options carefully selected to suit the needs of the user from a single room to a whole house of wireless, wired or combined systems.
Lighting control solutions can be scaled to suit your project. For a single room, a solution such as Rako wired/wireless or Casambi system works well. This is a relatively simple system and is easy to use and set-up yourself. Casambi blue tooth solutions also offer the same ease of use and flexibility.
The majority of control solutions allow you to control your lighting via an app to edit your own scenes which are all customisable by mobile phone or tablet controls.
For a whole luxury house, a remotely accessible controlled system such as Lutron would be ideal. These more sophisticated systems allow for multiple functions including blind control, scheduled events, programmable logic, remote dial plus much more. This more complex system would need an engineer to set up the scenes for each room.
Should timescales be tight, we can be agile,  helping to specify our first-class product range with specialist consultants on hand, to help you through every step of the way. A dedicated project coordinator helps underpin the service to ensure ordering and deliveries run smoothly and on time.
Contact our Specification Team directly to discuss your project further with a lighting expert.