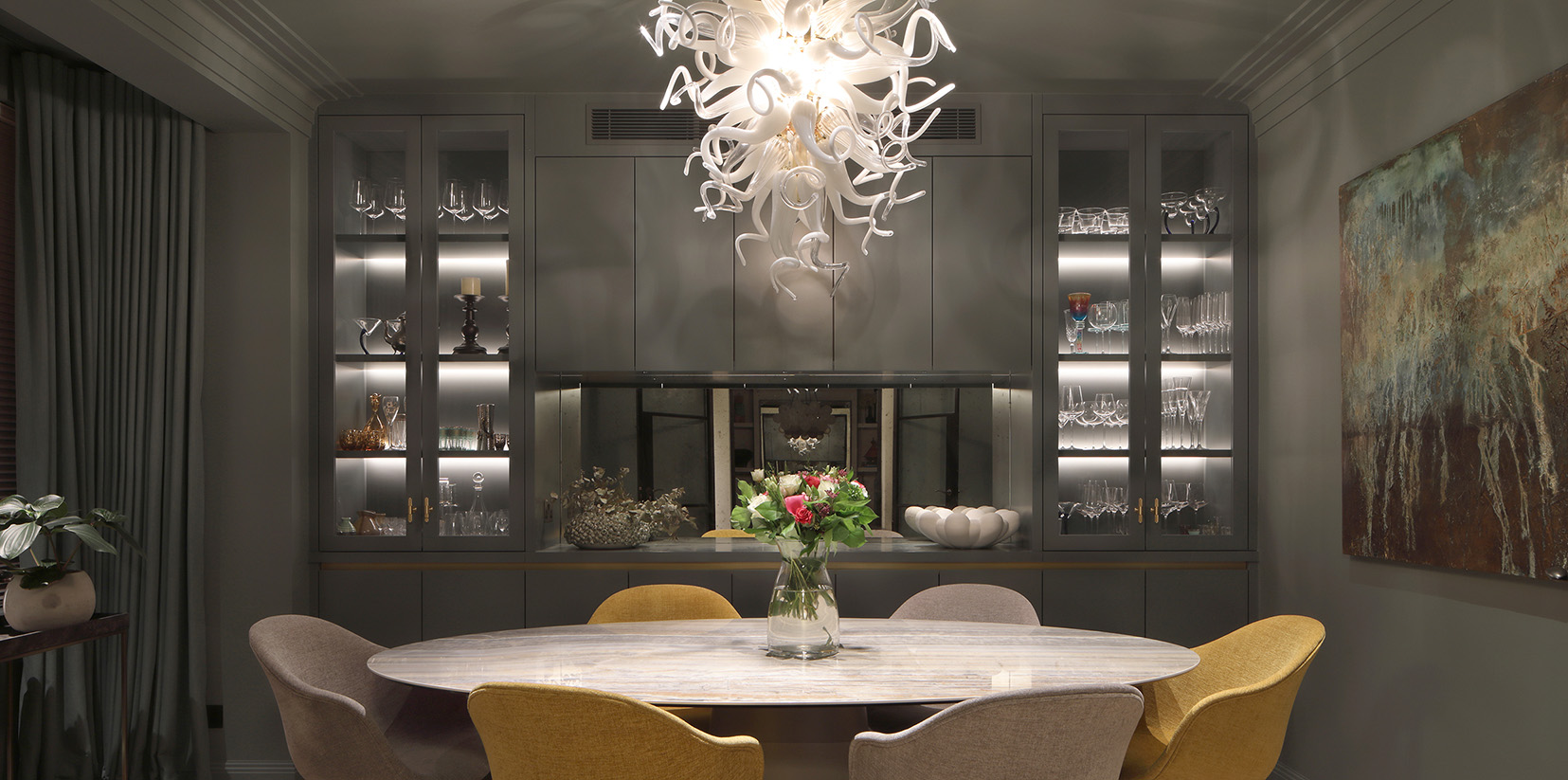 DINING ROOM LIGHTING IDEAS
Tips & Techniques
Creative Director Sally Storey shares her great dining room lighting ideas giving you tips, tricks and products to use in your home. Before you even think about adding food and company into your dining room, you must first think about creating the right mood. Lighting is ideal to help you achieve this. Dining rooms need to be flexible to have a bright feeling for a lunch on a dark day to a more intimate, moody atmosphere for a dinner party. Do have a read through our top dining room lighting ideas to see how to light your space.
The impact of lighting cannot be underestimated. A totally undecorated space can be made to be moody as lighting can focus on what we want to see and conceal what we don't. A beautifully decorated house can be a disaster if badly lit too bright and no lighting control.
1. CREATE A FOCUS
The key for successful dining room lighting is to create drama by focusing light onto the centre of the table.  This adds intimacy and draws your diners into the table. Use a Polespring LED with a 10° narrow warm white light to highlight your centre piece.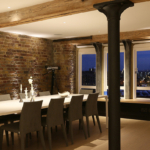 2. DECORATIVE LIGHTING
Decorative lighting such as chandeliers and wall lights can add warmth to your dining room lighting creating a more dramatic setting.  There is an endless choice of styles to choose from to suit your interior.  When selecting decorative lights, do avoid those that are non-dimmable as they will be too bright at night. A further consideration is to ensure that they do not use a cold LED light source which will look harsh and will not match the rest of your lighting. Decorative lighting will be your focal point, but make sure to add some architectural lighting to create the focus.  Here we have added some narrow beam Polespring LED downlights to light the centre of the table and complimenting this with some Lucca 30 uplights to the shutter boxes.  This adds another layer of light and shows off this architectural detail.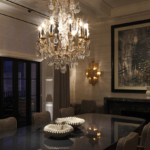 3. LIGHT YOUR ARTWORK
The dining room is an great place to show off your art whether that be a canvas or a sculpture.  Do ensure that you light your art at night or else your favourite pieces will fall flat. The simplest way to achieve this is with a directional downlight such as our Polespring 50.  This will work for both pictures or a sculpture. With a high CRI, you can ensure that the true colours of the art is shown.  Do read more about how to light art.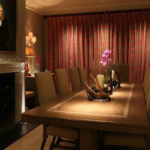 4. CONTEMPORARY EFFECTS
If you are looking to achieve a more minimalist look for your dining room with no decorative lights, consider uplighting behind a banquette.  Here we have used the warmer 2400K Contour HD24. This soft uplight will provide an indirect light source and reflect warm light into your dining room.
Perhaps you have a skylight in your dining area?  If they are not lit, they can look like dark holes at night. To avoid this, consider incorporating lighting within it. Here we have recessed the Contour HD24 into a channel creating a strong linear effect at night.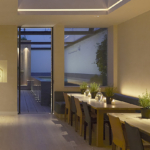 5. KINETIC ENERGY
Don't forget candles as part of your dining room lighting.  These provide an unbeatable softness and dynamic appeal. Whether using traditional chandeliers or tea lights, use them to add to the ambience in the room.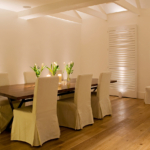 6. POSITIONING OF DOWNLIGHTS
Avoid grids of downlights. Think carefully about your downlights and where you position these so you can maximise their effect. It is crucial to know your furniture plan prior to positioning them. Choose a narrow beam Polespring over the centre of a table and never over one's head. On all accounts avoid grids and position your downlights carefully.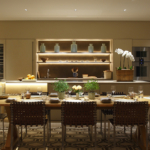 7. LAYER THE LIGHTING
Avoid only one light source as it is difficult to create a mood i.e. just pendants or just downlights. Good architectural lighting requires a variety of effects. Here shelves are lit with Contour HD27 to provide a soft background glow whilst the centre of the table is lit with narrow beam Polespring downlights. The garden is also lit with a combination of Kews and Hamptons to draw the eye outside.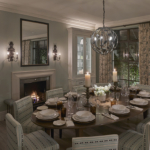 8. CONTROL THE LIGHTING
Our final dining room lighting idea is to put your lights on a control system that allows you to dim the lights and have them on different circuits.  Put the light over the centre of a table separate to decorative lights and separate from any feature lighting. By having a variety of effects, it is easier to change the mood.