Luxury bar lighting – Get the look
Posts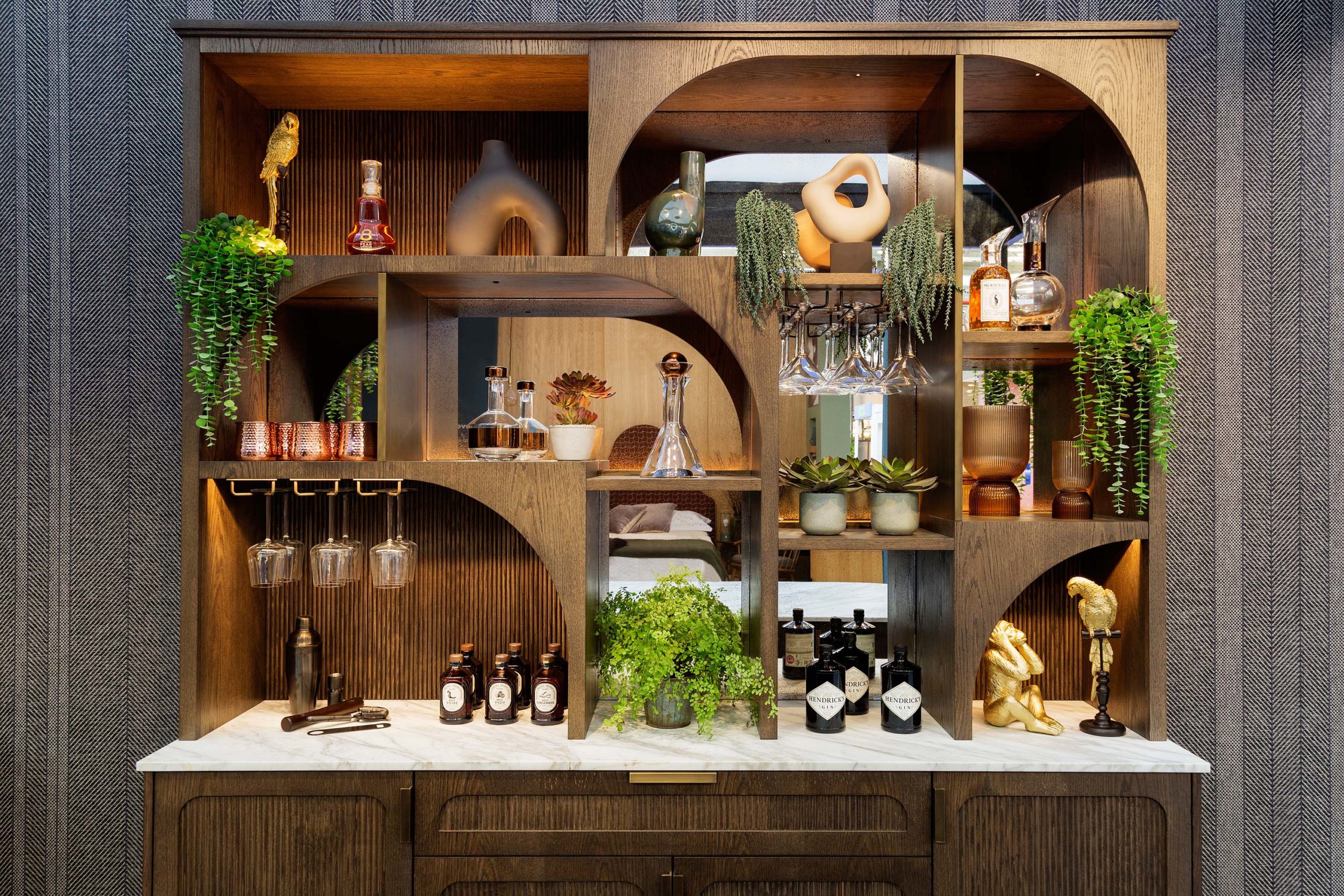 Creating the perfect bar lighting adds an extra layer of drama and atmosphere, elevating your bar from the ordinary to the extraordinary. There are some considerations to think about before you begin, to ensure the best bar lighting is achieved. Attention to the detail and forward planning is key, working closely with the joiner to produce the best result and lit effect.
We teamed up with British joinery specialist, HUX Joinery at this year's Decorex where we lit their stunning handcrafted bar at the show. Their innovative design combined with beautiful finishes needed to be lit in a subtle, yet impactful way. Our design teams worked together to create a plan that worked to incorporate the details and finishes of the bar.
Read on to discover how we achieved the design, plus our top tips and considerations for luxury bar lighting.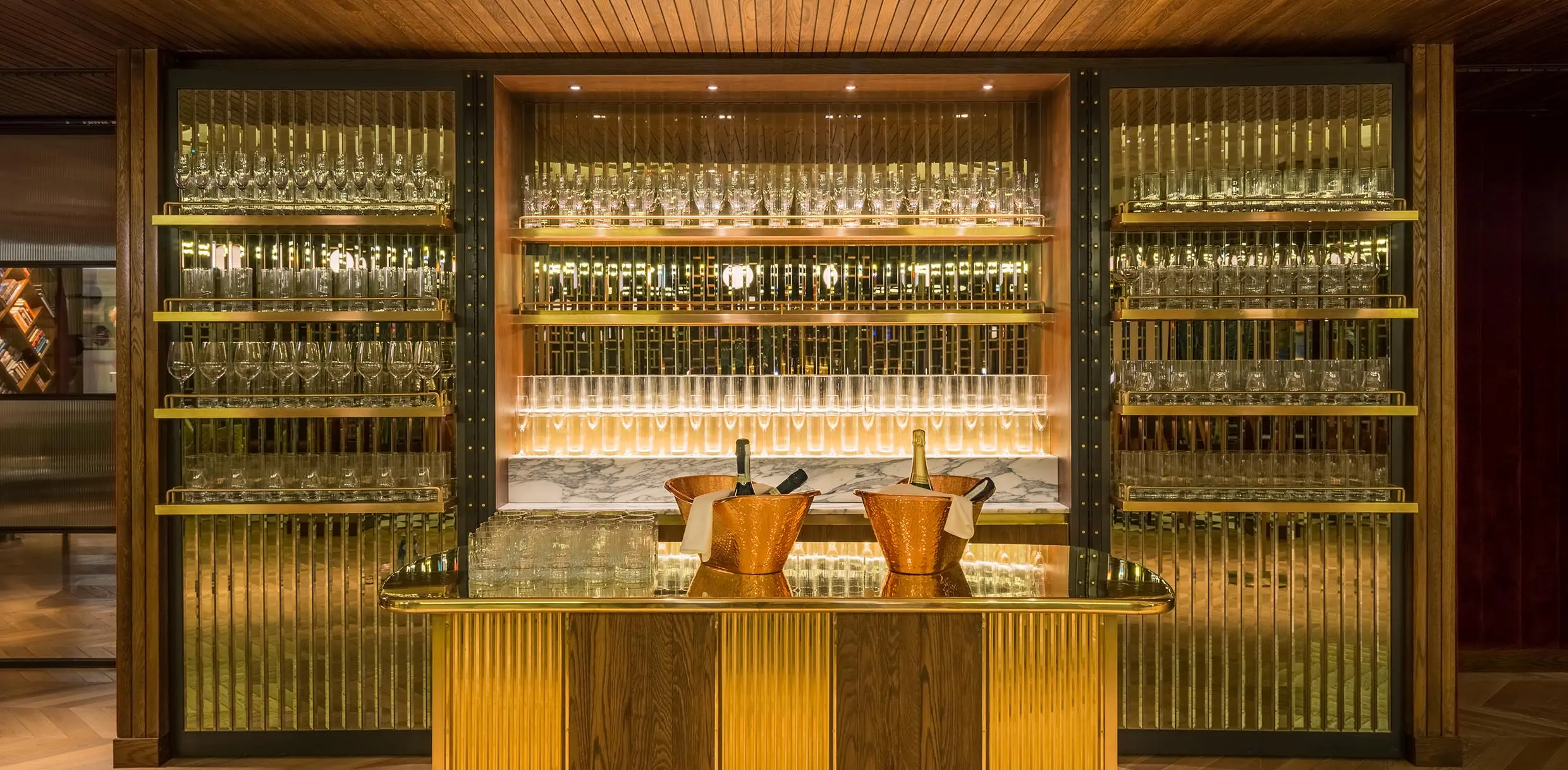 Planning and coordination
Planning ahead is key when it comes to integrating joinery lighting into bars. Consider what objects are being lit and the styling of the bar – whether that be glassware, coloured bottles or solid objects. It's important to bear in mind the viewing angles – for example, will guests be sitting at the bar and what light source they will see. Are there surfaces and finishes that will be reflective and pick up the light source? It's also important to think about how the bar lighting fits in as a layer of light within the overall room scheme. You don't want it to look over lit and out of place within the space, but for it to blend seamlessly into the space.
Coordination with the joiner or carpenter is vital so that lighting can be effectively concealed to minimise harsh shadow lines. Details can be incorporated into the joinery design from the initial concept to ensure light sources can easily be concealed.
Considering Finishes
Think about the finishes that will be used in the project to ensure the correct lighting solution is achieved. Whether it is reflective or matt, gloss, or highly polished will make a difference to the final look.
The HUX bar at Decorex (pictured above) incorporated a deep rich wood, with antique mirrored back panels. It was important here to ensure that the Contour linear LED strip lights that were used to backlight the shelves were concealed within a discreet frosted profile with a wooden upstand so the source of the light was not visible or reflected in the mirror.
This same method should be used when backlighting with linear strip for glass or polished surfaces so no dotting is seen from the strip.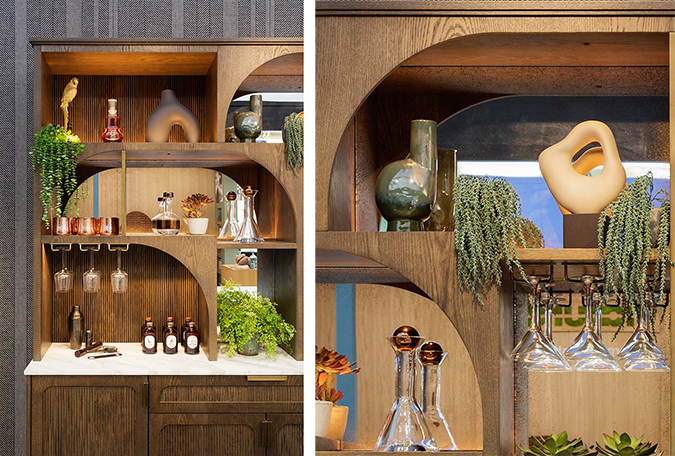 Within some of the shelves, solid objects were lit with our miniature Minim joinery downlight (pictured above) which provide a pool of focused light onto the object below. Joinery downlights also work well for bars which include glass, as the light will be cast through the glasses, bottles and objects you are lighting within them.
A good way of lighting glass shelves is to use linear light. For the shelves on this project below, we added a linear strip in a profile to the top of this cabinet, which stops you seeing the dotty reflections. This provides an even wash of light down through the glass shelves. Contour linear strip was also used behind the bar unit to give a floating effect.
Where solid objects are being lit, this also creates a dramatic silhouette effect when the shelving is backlit.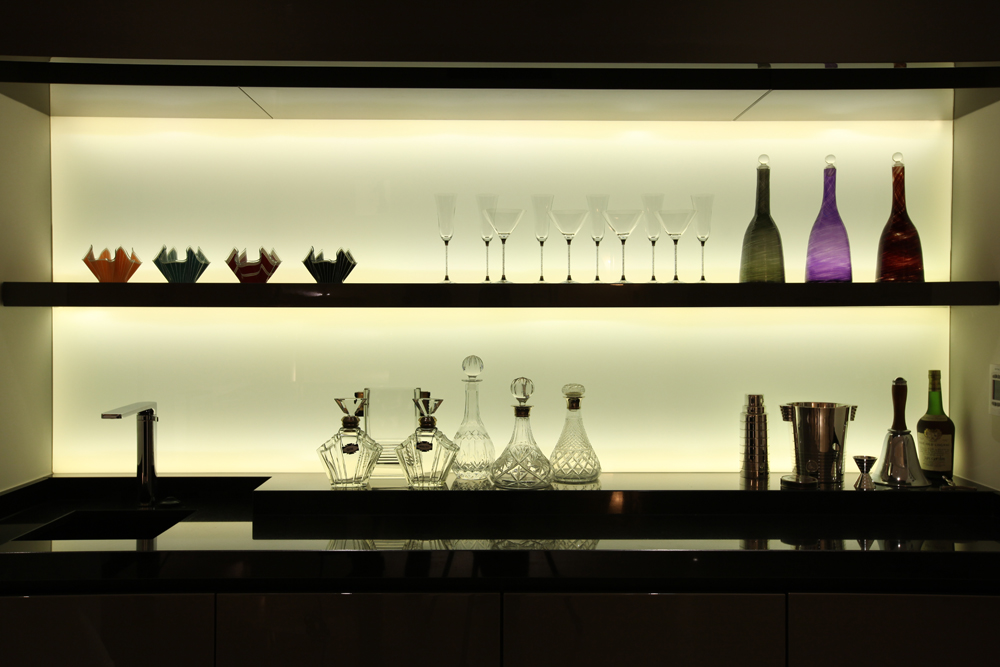 For non-reflective surfaces, such as wood, honed or textured marble, paint or wallpaper, several solutions can be used from linear strip to downlighting. However it is important here to consider the colour temperature used to show the natural colours of wood or marble at their best. Always ensure that any product chosen as a high CRI (colour rendition index) of 90 or over.
The design details
When it comes to bar lighting, the design details of the joinery need to be considered. For the HUX bar (pictured below), there were several curved features built into the wooden shelving. We front-lit these sections by creating a baffle within the shelf which incorporated the Contour linear strip at an angle to effectively direct a wash of light down and onto the shelf below.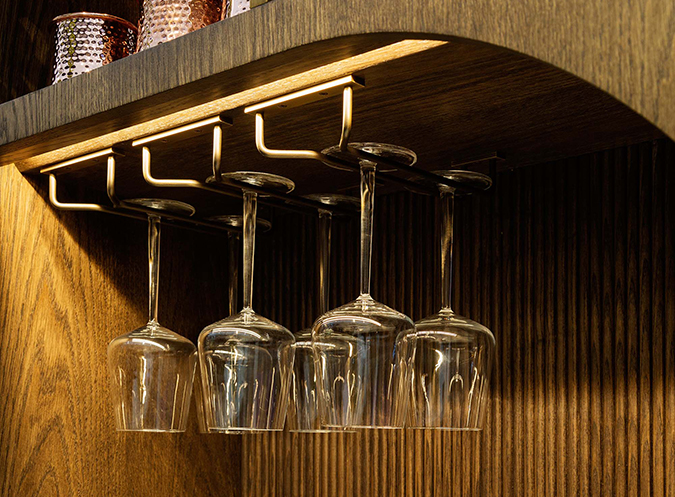 For best results, think about what is being lit, whether glass or solid objects. Backlighting will help to show through transparent objects for example, whilst front lit or downlight will show solid objects in their best form.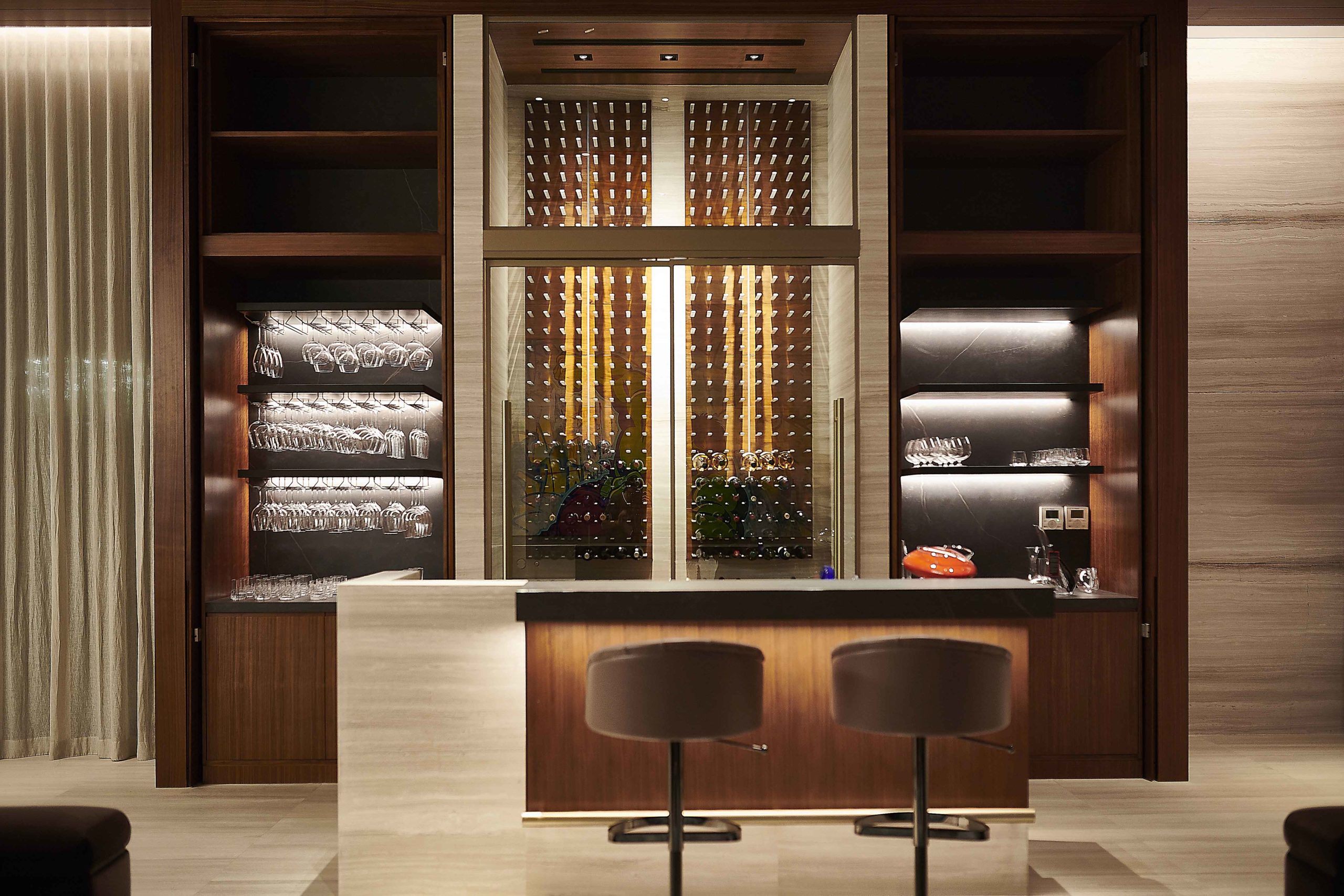 In summary, when considering bar lighting be sure to plan ahead and work closely with the joiners and any other key people involved in the project, to ensure the right solution is achieved. Consider the materials you are working with on the scheme to ensure the lighting is best concealed and does not cause glare or reflection. When it comes to joinery and bar lighting, it's all about the detail!
Follow us on Instagram for the latest projects and product news and inspiration.
Images 1, 3, 4, 6: HUX Joinery Bar Design and photography Guifré de Peray
Image 5: Interior Design: Designed by Woulfe, Photography: Jonathan Bond
The Lighting toolbox
Once you have finalised your finishes, design details and what is being lit, you can select the most appropriate luminaire from the lighting toolbox: