Lighting Design Ideas in House & Garden Magazine
Posts
When Creative Director Sally Storey moved back into her childhood home, it was the perfect opportunity for her to not only renovate it, but also use the latest lighting design ideas throughout. In this article in March's House & Garden, Sally explains how she has introduced bright ideas throughout and the products used to create the effects.
In the first image, Sally explains how the kitchen lighting is all about layering. She wanted to cerate a focus over the island with these two oversized Vorani III Pendants from Tala. They provided the ambient light but it is with the addition of the Vorsa 30 Spotlights that the focussed task lighting is achieved over the kitchen island. The addition of shelf lighting with the Contour LED strip adds depth and accent lighting to the space. At the far end Lucca 30 uplights create a feature of the window reveal.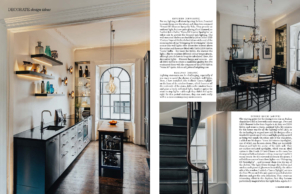 For the dining room. at the opposite end of the kitchen, similarly the chandelier provides the focal point, but a focus is created on the centre of the table with Vorsa 30 spotlights. On the mirrored shelves at either end, narrow beamed 30 Polespring downlights were used to filter light through catching the glass objects.
On the staircase, Sally selected Lucca 30 uplights to light up the window frames and avoid the clutter of multiple wall lights.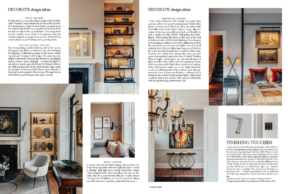 In the snug, Sally chose to use concealed Contour LED strips to front light them to create a warm glow. A Wallace lights the art and a Moulin Wall Light for Julian Chichester to create a cosy seating space.
In the sitting room, Contour LED strip was retrofitted into a shelving unit which belonged to Sally's father. She selected the warmer 2400K to create a more welcoming effect in the evening.
Lighting design ideas in Sally's bedroom included Motu table lamps from Porta Romana either side of her bed which were combined with a couple of Polespring 40 downlights to brighten up the centre of the room. Again the Wallace picture light, with its high CRI, was selected to light the art
Read the full article here – Lighting Design Ideas