How to Light Large Gardens
Posts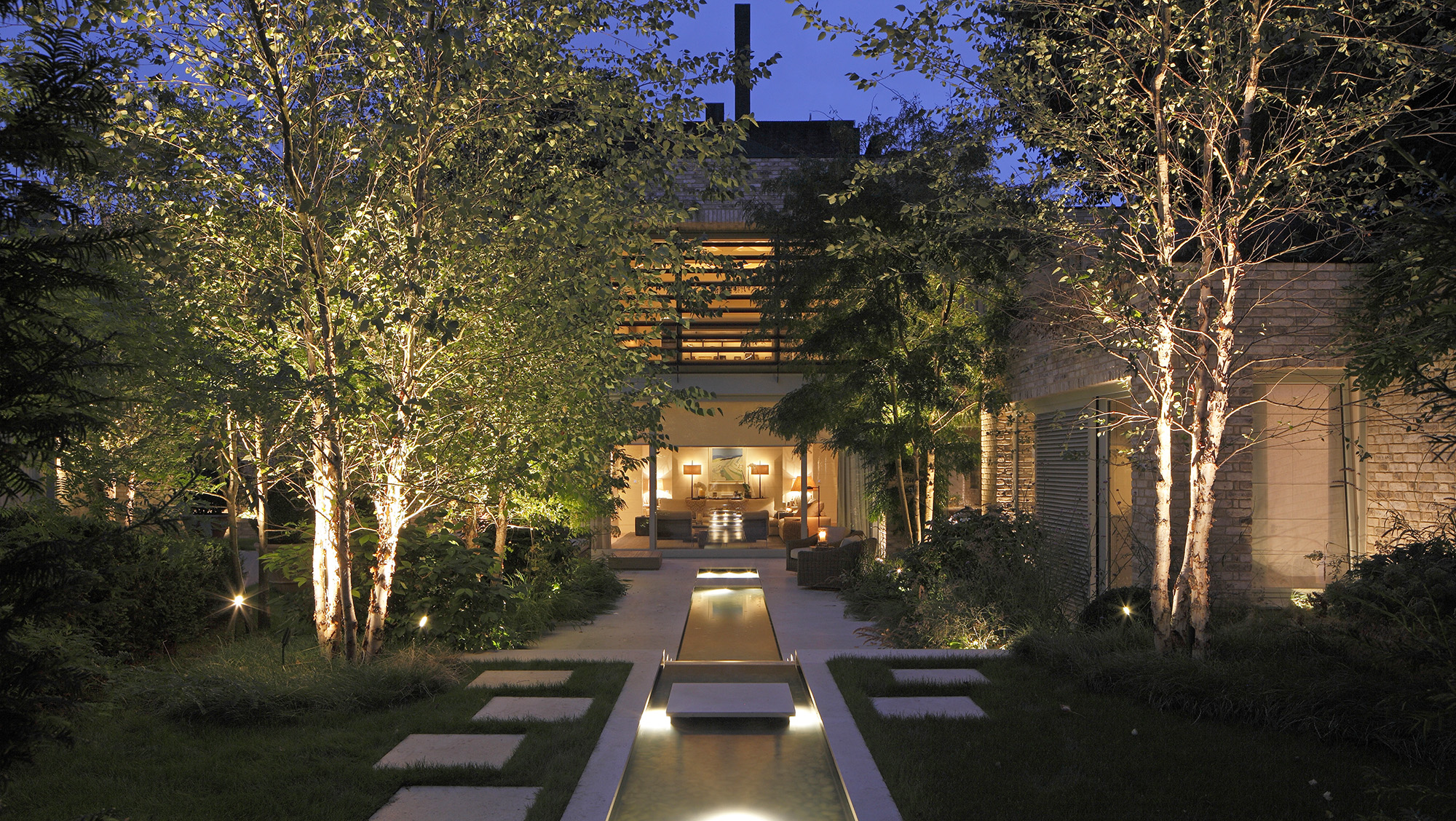 Our Creative Director Sally Storey says when planning your large garden lighting, the key elements to consider can be broken down into the lighting of paths, steps, sculpture, trees, walls, water and features. Do not be afraid of darkness as this plays an important part in a well-lit garden. Understanding the balance of light and shadow is a magical component in all lighting design. For tips on lighting smaller gardens and terraces read our article on Lighting Small Gardens.
Provide a welcoming entrance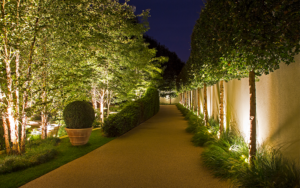 The entrance drive of a large house may start with a set of gates, where just lighting the posts either side is often enough. Once on the drive to the house, a formal avenue of trees is an appealing feature to light. Or, if the drive is shorter, then lighting a central feature and the house would provide a great view. For some, it may seem more subtle to not light the entrance (particularly if there is a long drive ahead) except for events when flares could be used.
Paths approaching a home, or those offering a route from one area of a garden to another, do not always need to be evenly lit. One option is indirect lighting from planting at the edge. This can be achieved with Hampton flood lights spiked in the foliage. Another is using the Portobello which casts light downwards to light local foliage and the path. The critical essence is route finding and ensuring changes in level are lit for safety.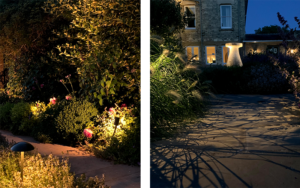 A large garden may have a variety of smaller paths around it or routes to different areas. Sizeable gardens often have various rooms within them: a terrace with barbeque and dining area, a kitchen garden, a swimming pool, a formal planted area, or a woodland meander, perhaps. These all need treating individually according to what they are like and how open or enclosed they are.
Add drama with step lighting
Lighting steps is obviously important from a safety point of view, but they can also provide dramatic or soft light for the garden. A path may be lit sporadically as a route finder but the intensity of light should increase at the steps to ensure they are evenly lit.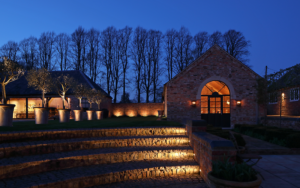 Step solutions vary depending on the style of steps and location. Steps with a solid string at the side can have a step light integrated into the side such as the Lucca 30 steplight that washes light across the tread. This can be located on every or every other step depending on the number of steps. The first and last step must be lit, otherwise it becomes a trip hazard. If the steps are open at the sides, then a directional light source that focuses the light down on the tread rather than across the riser is better as it avoids glare. Ask our sales team for options.
If there is no string at the side and the steps are between planting, then a path light such as the Hampton flood lights or Portobello could be the best solution. This will give a gentle glow and can be spiked into the greenery either side.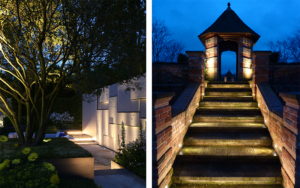 For a contemporary garden, a linear LED solution like the Contour HDX27 looks stunning recessed under the stone steps. This creates a strong visual impact, and should be dimmed to avoid being unbalanced in the lighting scheme.
How to light garden structures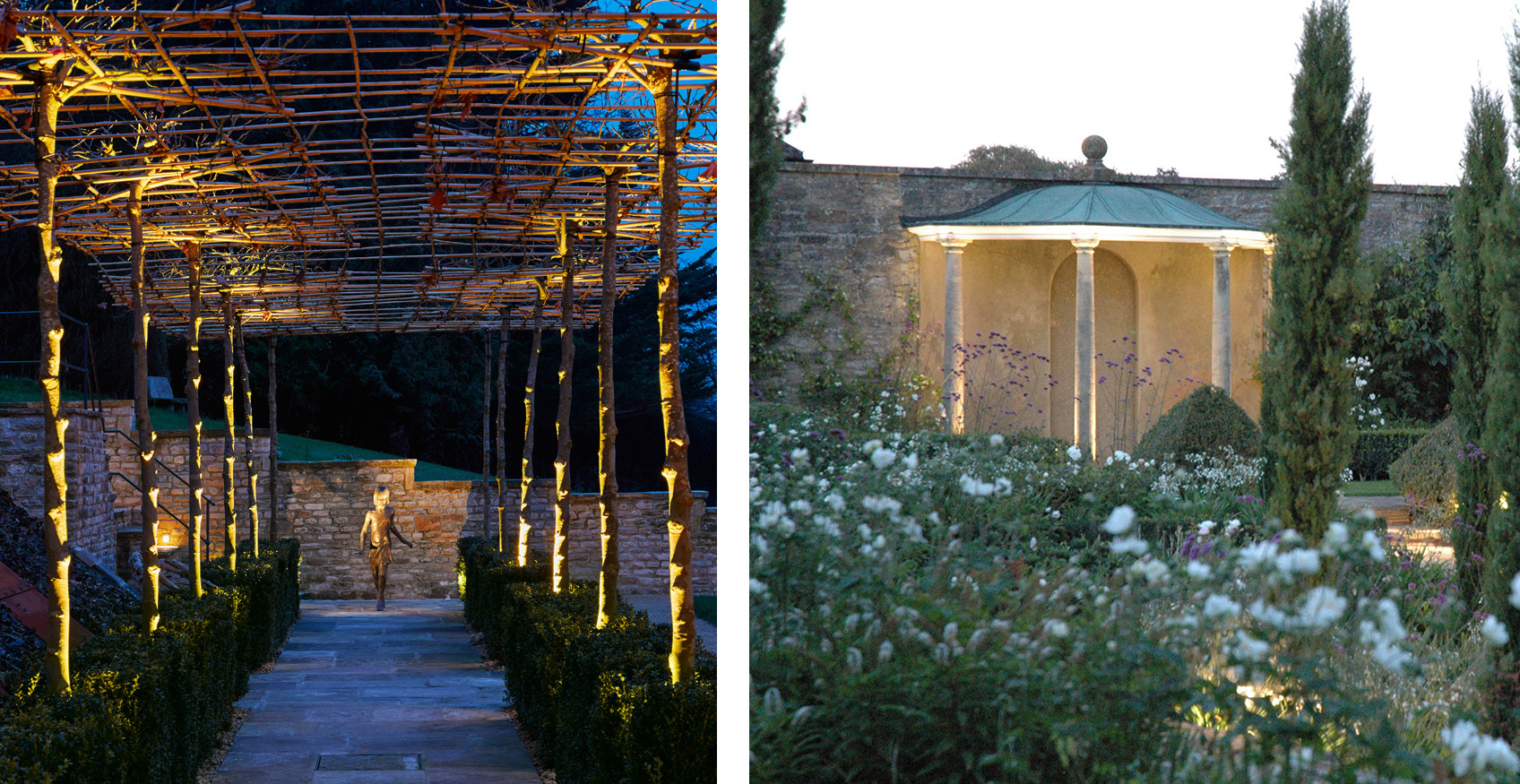 Pergolas provide both focus and shelter over a path, often with climbing plants trained over them. They can be used as a visual device to lead to a special area of the garden, and are a wonderful opportunity for lighting. The classic way to light a pergola is with uplight at either side to create an arch effect. If they're leading to a focus, this can be lit with directional lighting using a Kew spotlight from the pergola. Another solution is to hang pendants from the pergola such as our Starliters, which, if dimmed, give ambience, and work best combined with uplights to the structure either side.
Create focus through lighting sculptures and features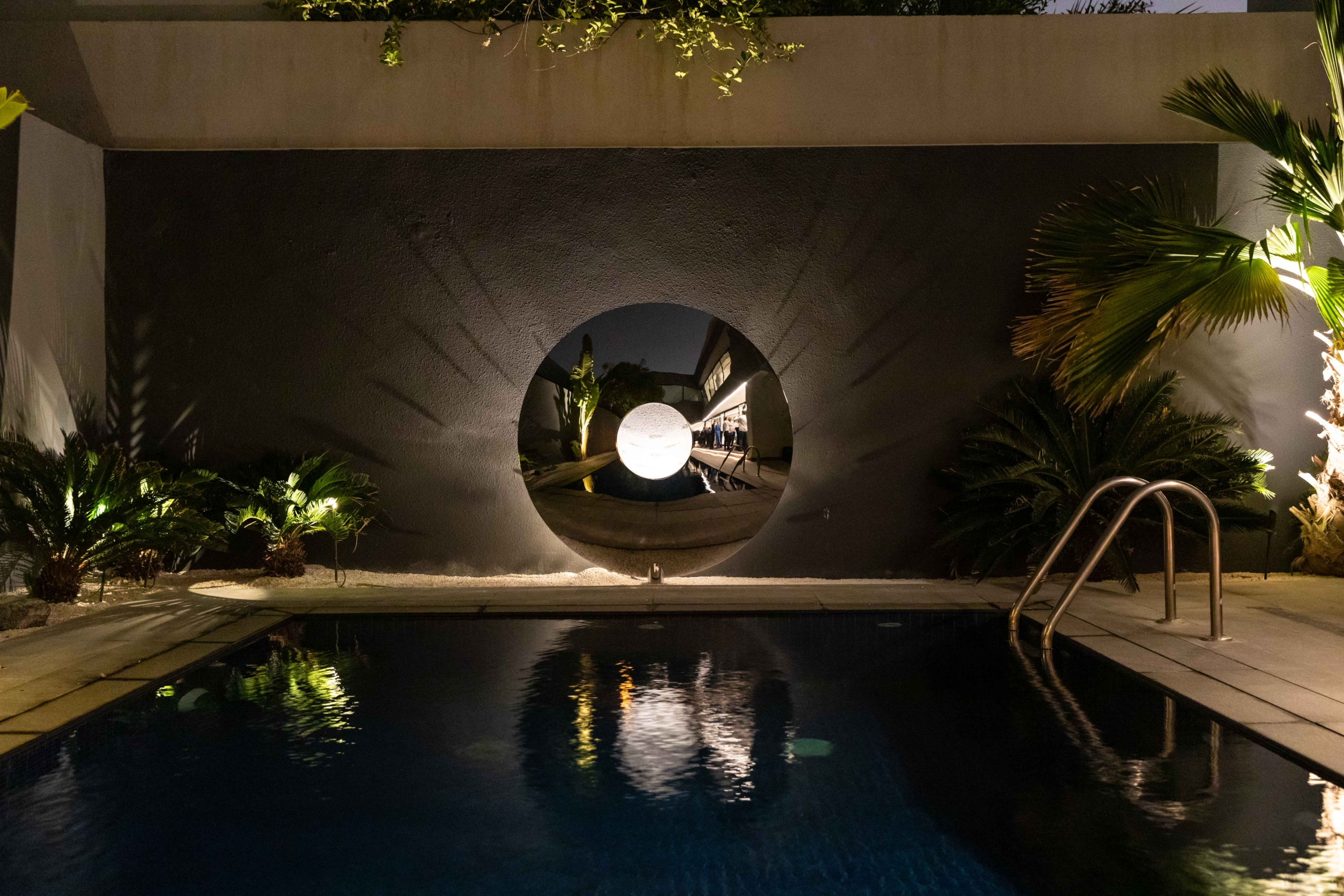 Garden sculptures can make a large garden. Artists create classical and contemporary and formal and playful sculptures in every shape, size and style. They can be a centrepiece to a formal garden creating the focal point, amid an ornamental box parterre garden, or located in a wild planting bed, either incidentally or as the central point. Whatever the style and position, lighting the sculpture by night is essential, as one can create a permanent lighting effect. When lighting planting, it must be adjusted by seasons, but a sculpture remains the same year-round.
How to highlight trees
In large gardens, trees can be the centrepiece. They can dominate the landscape and provide a majestic focus. Different trees will require different lighting techniques. For example, palm trees with their narrow stem need a narrow beam of uplight with a warmer 2700k (max 3000k) colour temperature. Scots pines with their long slender trunks and silvery green cloud-like foliage are best lit with a very narrow light source and work well with a cooler colour temperature of 3000K to enhance the silvery quality of the foliage. Big deciduous trees such as oak, elm or beech, with a large canopy in a parkland setting, can be lit with a Lucca 120 buried uplight offset from the trunk with an adjustable width distribution to catch the spread of the branches and leaves. Often two or three fixtures may be required for the best effect.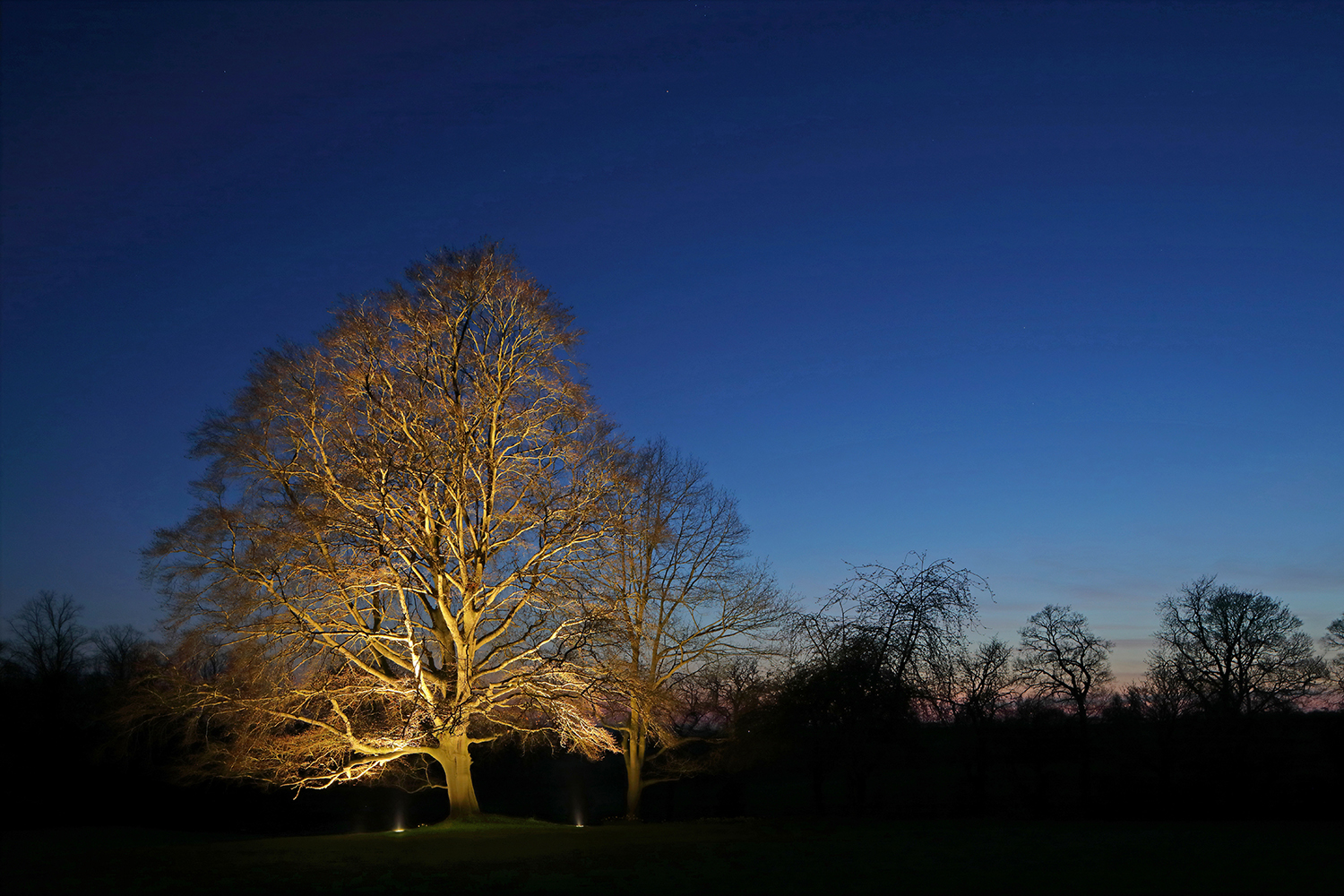 However, do not assume that all trees need to be lit. Instead choose the best and allow some to remain unlit to play with light and shade in the garden space. Usually, a light test is best to ensure the perfect positioning, as the branches of a mature tree can affect how one positions the light. This is not easily identifiable from a plan, and nor is the size of the tree or canopy.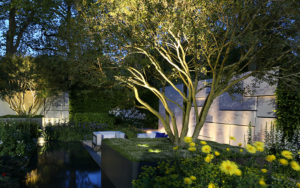 Smaller trees are usually located closer to the main entertaining area. Multi-stemmed varieties are particularly successful as they have a sculptural quality, which look good when lit, whatever the season. Usually, the best approach to lighting these is two or three spiked Kew 40 8W LED spotlights with a medium beam to provide the best total coverage. The flexibility of spikes allows seasonal movement within the planting bed, though they should all have a glare guard to allow the light source to be concealed from the viewing angle. Spikes work well in a flower bed as they are easily movable, whereas a recessed light will soon be lost under leaf and earth covering it, unless constantly cleared.
Bring water features to life at night
Garden water features can be either a dynamic element or peaceful reflecting pools, which at their simplest require no intervention. During the day they reflect their surroundings in natural light, and at night reflect the lit surroundings.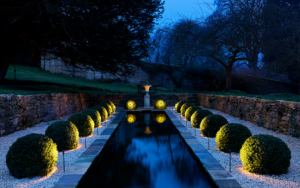 There are a few guidelines for lighting water features. One should never light within a natural pool with lilies and algae growth as the water takes on a muddy colour that is unattractive when lit. The only exception is a rockery or waterfall as the moving water over the rocks is clear of algae and can be rather dramatic when lit. When lighting a feature like this consider embedded light fixtures into rocks so they can be moved to suit the location of the water, which is difficult to predetermine.  They tend to have the light source on the surface so can be glarey so skilful positioning is essential to direct the light towards the rock faces and water, and avoid viewing angles where someone can see the light source.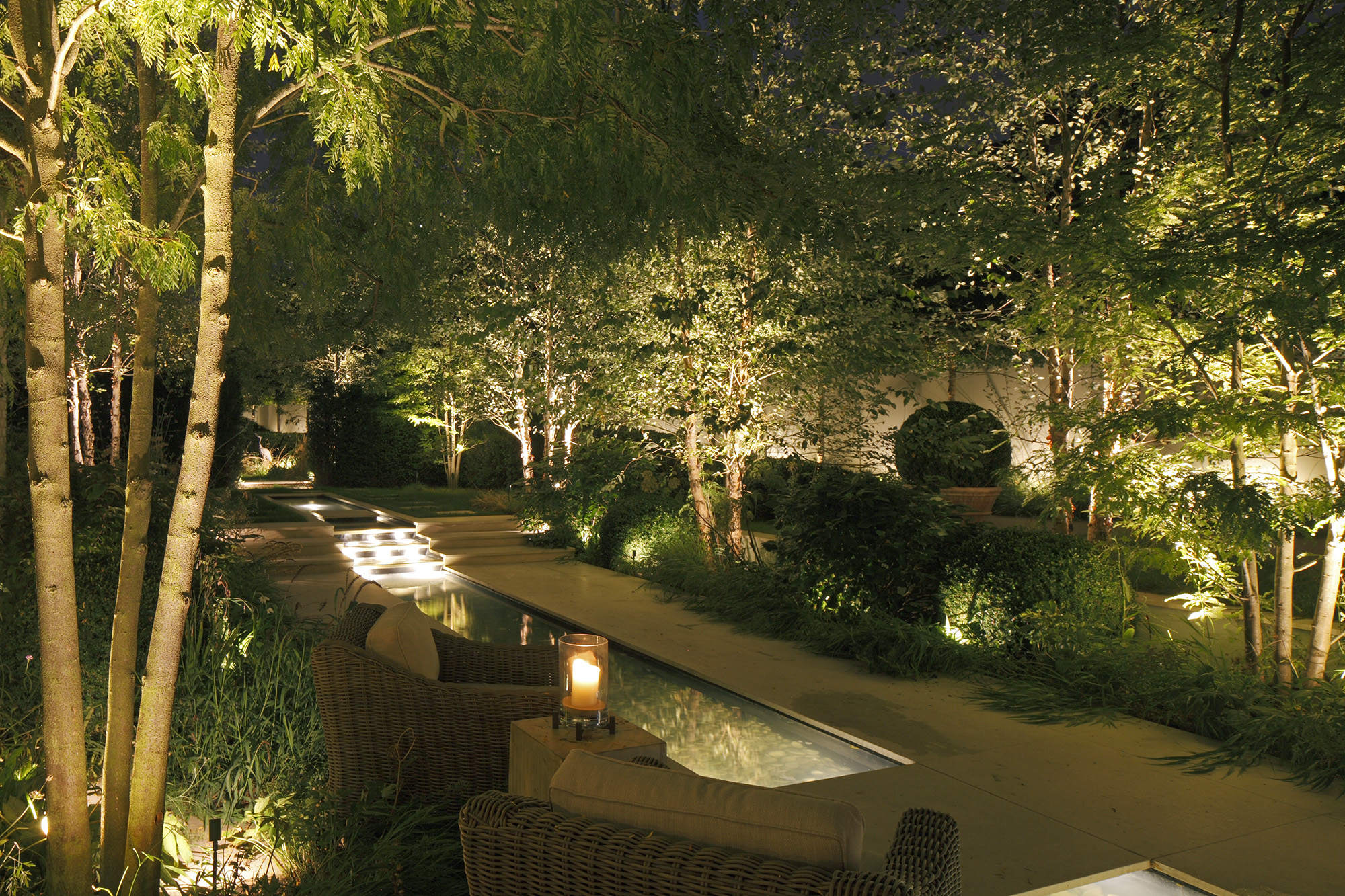 Architectural water features rather than natural pools, provide an important focus within a garden scheme, not only creating impact with light but also with the sound of running water.
Understanding how light travels through water is important as the solutions vary depending on effect desired. Usually, a fountain or a bubble jet can be lit with small LED sources or fibre optics. For a bubble jet, a fibre optic should be located within the water spout itself, which has the mesmerising effect of making the water appear to contain the light, almost like a flickering nightlight.
How to control lighting for large gardens
In a large garden, Outdoor lighting needs a good control system . It should be able to be switched on when required and also linked to a daylight sensor to prevent daytime operation. For the entrance, this could be a sensor to allow the lights to come on as one enters and go off a few minutes later. This should also have an override to allow the lights to be on permanently as a welcome to guests, and then when switched off the lights would revert to sensor operation.
For the larger garden one may want to separate the garden into areas so that not all the garden lighting has to be on at one time. For example, it may be just the immediate terrace in view that is important and one only adds the rest when entertaining, dividing the garden into different rooms and levels of light. All these aspects need to be considered when planning the garden. The best way to consider control is to divide the area into effects, so decorative lights are operated separately to uplights, and water features are also separate. Then each can be defined and combined to provide the appropriate moods.
For inspiration on lighting smaller gardens and terraces, read our article on How to Light Small Gardens.
If you need help lighting a large garden , do contact our design team to help you maximise the scheme.
For more techniques and tips, follow us on Instagram.