How to choose hall lighting…
Posts
The hall is the first room you and your guests encounter. We can make areas come alive, feel larger or less cavernous. Lighting design is like a magic touch, bringing out the best in each space. Read our latest article for our hallway lighting tips…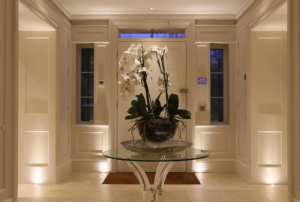 How to choose hall lighting
Walk into many hallways, look up at the ceiling, and you'll be met with a grid of fixed downlights – a sorry sight for a lighting designer. As Hazel Park, Senior Lighting Designer here at John Cullen, says, 'These downlights are put in as a simple solution to provide a general light – but they mainly just shine onto the floor without doing anything for the surrounding wall space. Alone they won't create a pleasing ambience in your hallway.' Instead, we seek to create a warm and welcoming atmosphere in a hall, using layered lighting to enhance the whole space.
Layering is about using light at different levels. For hall lighting, this can mean ceiling pendants, table lamps, decorative wall lights and architectural lighting. We also recommend directional fittings, angled towards the walls or to highlight artwork. Subtle floor-level lights add another layer, too – perhaps up a stairway. These options all offer reflected light to achieve an intimate atmosphere. A successful layered lighting scheme creates a soft glow to welcome you back to your home. We can also pre-set different mood options, so you might have a bright daytime option, and a gentler evening option, available at the touch of a button.
Lighting design is about mood, shape and shadow as much as it is about illumination. A harmonious variety of lighting will dramatically improve the spaces in our homes – of which the hall is the first you and your guests encounter. We can make areas come alive, feel larger or less cavernous. Lighting design is like a magic touch, bringing out the best in each space.
Here are our top hall lighting ideas…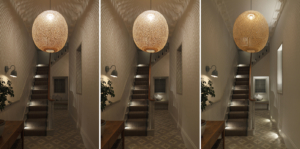 Lighting options for small hallways
Many urban homes have fairly small halls. For these, we suggest low-glare directional fittings as a starting point. For a low ceiling in a tight space, our petite Polespring 40 downlight (smaller than our Polespring 50), works well with the proportions. It offers a tilt mechanism to 35 degrees, so the light can be directed towards different areas. Directing light onto the walls rather than straight down at the floor opens up a small space, pushing the walls out to make the area feel larger. We also suggest table lamps. Decorative wall lights are great if there isn't room for a table, adding interest and glow in narrow spaces. These look elegant either side of a hall mirror, which itself enhances reflected light.
We always use low-glare lighting, because naturally our eye is drawn to the brightest spot. In caveman days, we would all be staring at a fire. Today, put a very bright light in and people will simply tilt their heads towards that. Instead, we suggest using several gentle low-glare lighting options to illuminate various hall points, such as artworks, a table area, ornate plasterwork on a ceiling, and skirting areas lit with our mini Cazala lights which offer a floor-wash lighting effect. Then, overall the eye feels more rested and drawn all around the space rather than to just one spot.
Lighting an artwork in a small hall is an excellent idea – you and your visitors will admire the art, rather than be drawn to a bright glary ceiling light. We might also choose uplights, for example to accentuate door frames or architraves if you've got an older building with interesting plasterwork. Lighting works best when lighting the features of your space. We look around each hall for interesting structures to accent, to create a tailormade welcoming mood.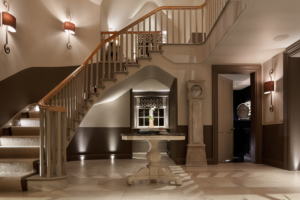 Lighting a large hallway
If you've got a three-metre high ceiling in a more traditional property, pendants will help lower the ceiling and stop the space from feeling cavernous and dark at the top. Again, we layer lighting. In a large hall there may be several artworks, which can be lit with directional downlights or specialist picture lights such as our Wallace lights. And decorative wall lights often play a part in large halls.
For a wide and roomy hall such as in a grand country property, the starting point is often highlighting architecture. Here a staircase can be sculptural and a focal point. We could use skirting lights to light the stairs or an LED strip underneath each tread to create a back glow. We also add light at the top of these staircases, to draw your eye upwards.
You might also consider a decorative pendant dropping through the staircase, which adds to the drama of a large space. A trailing pendant could highlight a table with flowers below in a more interesting way than a simple table-lamp. Accenting a feature such as this helps to give body to the centre of the space, which could otherwise feel flat. We can even integrate tiny spotlights into the pendant, to particularly accent areas of what is beneath. In a grand space you may want to consider a decorative pendant with the "wow factor".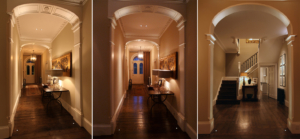 Choosing lighting colour temperature
Most people don't think about the colour temperature of their lighting, but it's one of the most crucial considerations. You need to look at the Kelvins or Ks. Many people just pick one that's 3000K or higher, which is actually a cold light. This makes it impossible to create the warmth or ambience that you're after when you enter a hallway. We recommend choosing lights that are 2,700K– which is a warm white.
Another important technical detail of LED lighting is the CRI of each light. CRI stands for Colour Rendering Index, and is about what happens when you shine light onto a surface. For example, if you shine light at an artwork or fabric you want to see its truest colours, rendered 100%. The best light for this is natural daylight, which has 100% CRI. So, we recommend lights which offer 90 CRI or higher. Lower than that and the colours appear distorted.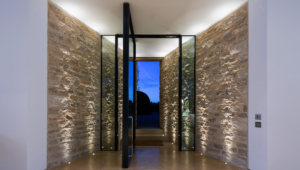 Don't forget your entrance
An entrance or front door area isn't technically part of your hallway, but it shouldn't be forgotten. It's part of the journey into your home. There's no point in making your hallway welcoming and wonderful if you can't see to find your front door keys.
It's appealing to have your driveway lit using low-level low-glare light fittings, or external uplights could also work well. A pair of plant pots either side of your front door could have small spike fittings to light the foliage. Using stylish wall lights to frame your doorway is also an elegant and simple solution.
Controlling your hall lighting
If we're designing a hall lighting scheme from scratch, the options for controlling your hall lighting are plentiful. Some clients want to be able to switch everything off at the front door or to walk in and easily turn on a selection of lighting. At that point we look at using a control system with various settings at the press of a button, for example for a daytime scheme and an evening scheme with a softer atmosphere.
Of course, we also redesign lighting schemes in homes where people don't want to change their wiring system, and so keep to classic switches and dimmers, merely reconfiguring where the lights are and upgrading the fittings. If you have a hall with that classic grid of downlights as mentioned above, we can retrofit your hallway with new options, changing fixed downlights for angled ones and adding lamps and other levels of lighting in your space.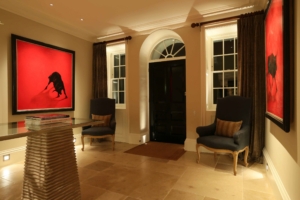 Planning your hall lighting
The best option if you're redesigning your home and hallway is to call when your plans are drawn, so we can get to the wiring before finishes such as paintwork and plastering are done. At this point we walk with you through the space or the plan and suggest the best lighting options.
For example, if you had a long narrow hallway or upstairs landing, one of our hallway lighting tips might be to suggest putting a sculpture at the end and then put a spotlight to it or back light it, to add dynamic interest. Lighting is about shadow as much as it is about light – and all features and fittings can be brought to life with lighting, from shelving to cornicing.
However, we can work with any situation, and also work with architects and interior designers. We often ask clients to visit our John Cullen showroom where we can demonstrate lighting options within a home setting. We have various rooms set up and can show clients how the lighting works in different types of spaces.
Keep an eye on our Instagram, YouTube, Facebook and Twitter for more inspiration for and hallway lighting tips.