Behind The Scenes With Joanna Wood
Posts
We are launching a new series called Behind The Scenes comprising exciting interviews with your favourite creative minds in the property design industry. Take a sneak peak at our first interviewee, Behind the Scenes with Joanna Wood, who shares her design secrets with us.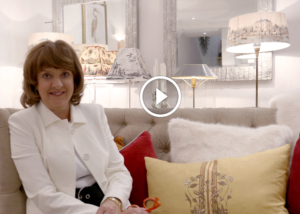 What is Behind the Scenes about?
We ask our interviewees to reveal stories about their beginnings, share their favourite projects, biggest challenges and interior design tips.
Who will you see in this series?
We decided to interview the most spectacular people we have worked with, amongst whom are Joanna Wood, Emma Sims-Hilditch and Brian Woulfe. And this is just the beginning…
A short introduction to Joanna Wood
Watch our exclusive interview with Joanna Wood, recognised as one of Britain's leading figures in the international world of Interior Design.
Joanna's style has attracted some of the highest profile and most prestigious residential, private and commercial projects around the globe. Her projects have included a castle in Spain, a yacht in the South of France and a private aeroplane. We managed to find out what is next on her bucket list and what truly inspires her designs.
Joanna loves creating a timeless style that combines traditional and contemporary elements to produce a result which is both practical and visually exciting. Her practice is well known for the use of craftsmen and furniture makers to achieve a bespoke interior for her clients. She shares with us what she thinks about the newest trends and how she approached her most challenging project to date.
Whether you aspire to become a successful interior designer or are looking to employ one, this new series is the must-watch for you.
Did you enjoy it? Do not forget to leave us a comment on Twitter, Instagram or Facebook. We would love to hear your thoughts.