Why hire a lighting designer?
Posts
Not sure whether you should hire a lighting designer? This Q&A with Design Associate Sabrina Fiorina gives answers about when and why you should commission a lighting designer to enhance your home.
With clever tricks, products and know-how, a lighting designer can give a home the wow factor. Modern control systems mean that whether you need a room to be lit so that its cosy and comfortable, inspiring and exciting, sultry and atmospheric, or bright and practical, these options can come at the touch of a button. Rooms can even offer a selection of moods. A bespoke lighting scheme designed by a professional adds an extra dimension to your lifestyle.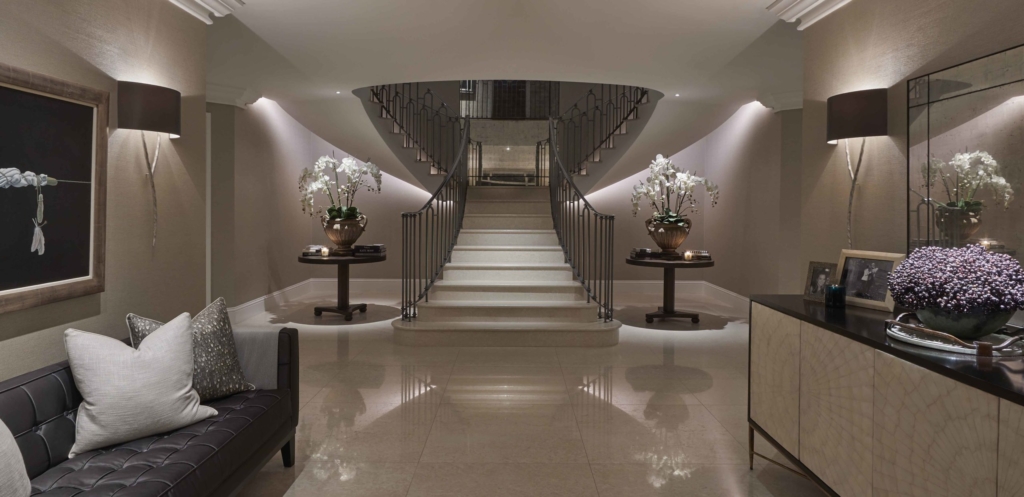 Q. I'm renovating my house, do I need a lighting designer?
A. If you're renovating, you will probably have an architect, interior designer or electrical contractor. We often work in partnership with these experts to add the final layer to your design. So, the short answer is yes, hire a lighting designer. Your designer or contractor may suggest a simple grid of downlights, but a lighting designer will offer a much more creative scheme layering with light and using wall lights, floor lights, architectural illuminations, gentle wash lighting, strong accent lighting, pendants, and decorative lights. The choices are multiple and an expert will create a harmonious lighting scheme.
A full renovation would require stripping the house back and new wiring added or a new build totally new wiring. This is the best time to bring in a lighting designer so a creative lighting scheme can be achieved including both architectural and decorative lighting. But even a partial renovation of just one or a few rooms can benefit from bespoke lighting design.
Q. What are the benefits of using a lighting designer?
A. A lighting designer accentuates the important features in your space, suggesting which elements need lighting and how that lighting might work – from showing off artworks, to uplighting architectural features, to downlighting the back of shelving in order to highlight objects or simply lighting up task spaces for reading, cooking or desk work. If you've chosen magnificent curtains, we can draw focus to them, and know which LED lighting will bring out the best in their tones. Different lighting works best with different materials and surfaces, too. We consider everything from warmth of light colour, to brightness, angles, shapes and shadows.
Our experience leads to the best lighting for every area of your house. Some decisions are technical and some are aesthetic – a lighting designer marries both for the best outcome. Whether you're renovating, building from scratch or extending, hiring a lighting designer is the right move.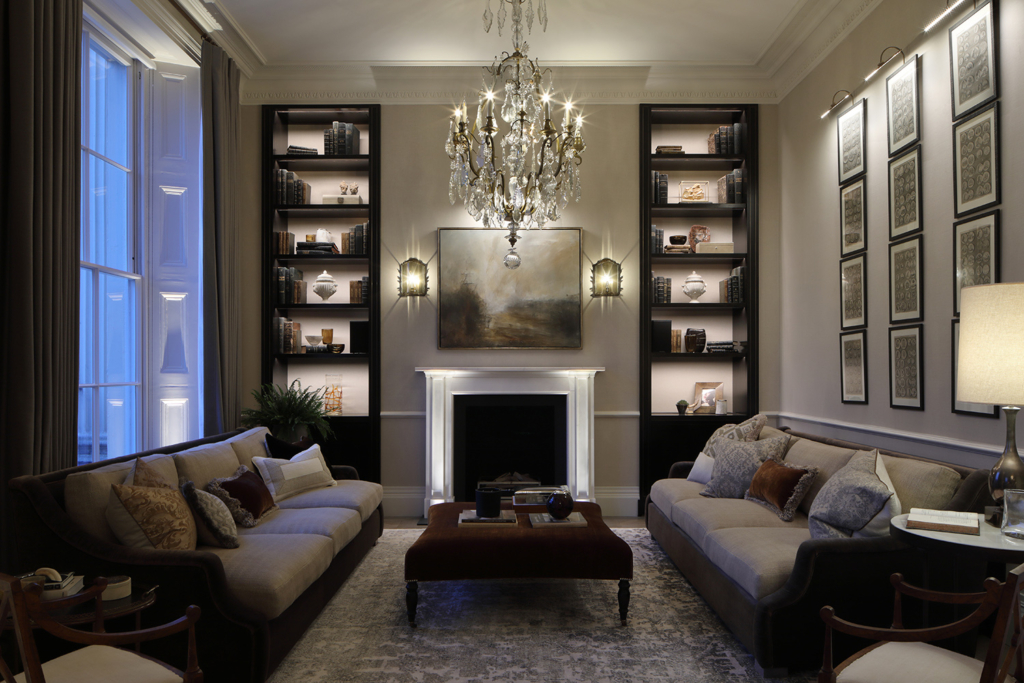 Q. I'm working with an architect/interior designer on a new build home. Why do I need a lighting designer as well?
A. If you're building a dream home from scratch, a lighting designer is essential. It would be a great waste to opt for a basic lighting scheme suggested by an architect. Instead, bringing a lighting designer on board in the early stages – once the designer has drawn up the first set of plans – means your new home will shine as brightly as possible once it's complete. We'll also make sure your outside spaces are elegantly lit, from your porch and driveway to garden and patio areas.
In the early stages of your design, we can plot where your lighting will go, and the cables and products required can be drawn into the lighting plan, making sure it all happens in one go. Don't leave thinking about lighting until the project is almost finished.
We have a different eye to the architect and our work complements each other. As well as looking at your space creatively, our technical knowledge means choosing the right products, their power and colour of lighting throughout your home. Likewise, working with interior designers brings out the best in a home, too. They might create a beautiful flow through the house – and we add lighting options to enhance the features, fittings and colour schemes that they bring.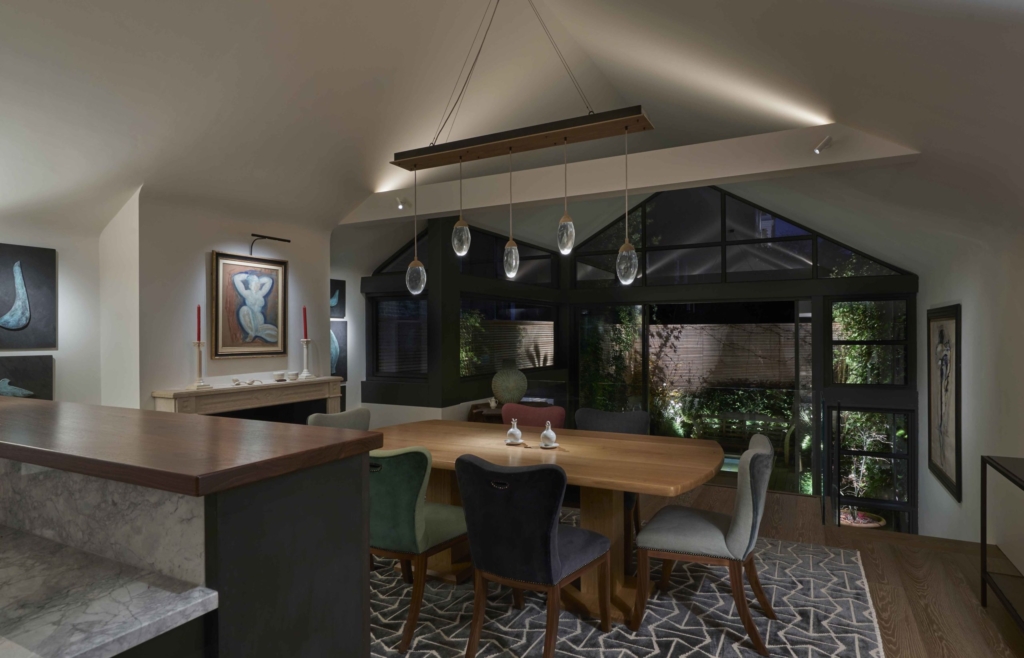 Q. What does a lighting designer do?
A. We improve homes by designing bespoke lighting schemes to suit the architecture, interiors and landscape. We work with clients, architects and interior designers to plan sophisticated and attractive lighting for new homes, for refurbishments and to update old lighting schemes.
Q. How do I hire a lighting designer?
A. Just give us a call. We begin by discussing your thoughts on the phone, then we'll meet in our showroom if possible, to show you our John Cullen rooms, complete with a variety of lighting options set out for clients to experience. We then discuss your plans, bringing design ideas to the table, and if suitable, we can visit the site, too. We plan a scheme using architectural drawings, beginning with a lighting concept design. Once agreed, we move to the detailed design stage, which includes technical drawings marking where different lighting is required – from decorative fittings, to architectural fittings, ceiling lights, floor lights, wall lights, picture lights, and so on.
Our team helps on site when lighting is being fitted by electricians, and assist if tweaks are needed. We're with you from beginning to end. Our clients always have a point of contact here at John Cullen.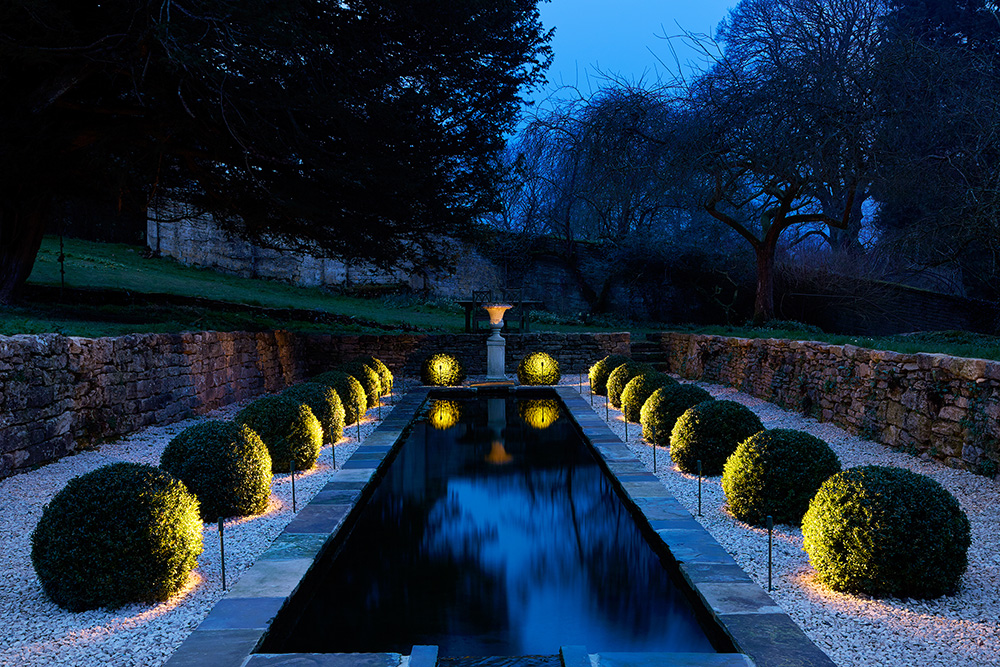 Q. What training and experience does a lighting designer have?
A. John Cullen lighting designers come from a variety of backgrounds with different qualifications, including architecture, interior design, theatre lighting design and degrees in lighting design. For example, I have bachelor's and master's degrees in architecture and a master's in lighting before joining John Cullen.
On arrival at John Cullen, all designers have specialist training with Creative Director Sally Storey, covering everything for the high standards required for John Cullen projects, including fittings, design software, presentation, and specs for particular products. Everyone here is highly trained.
Think a lighting designer is right for your project? Read more about our lighting design service or just get in touch.