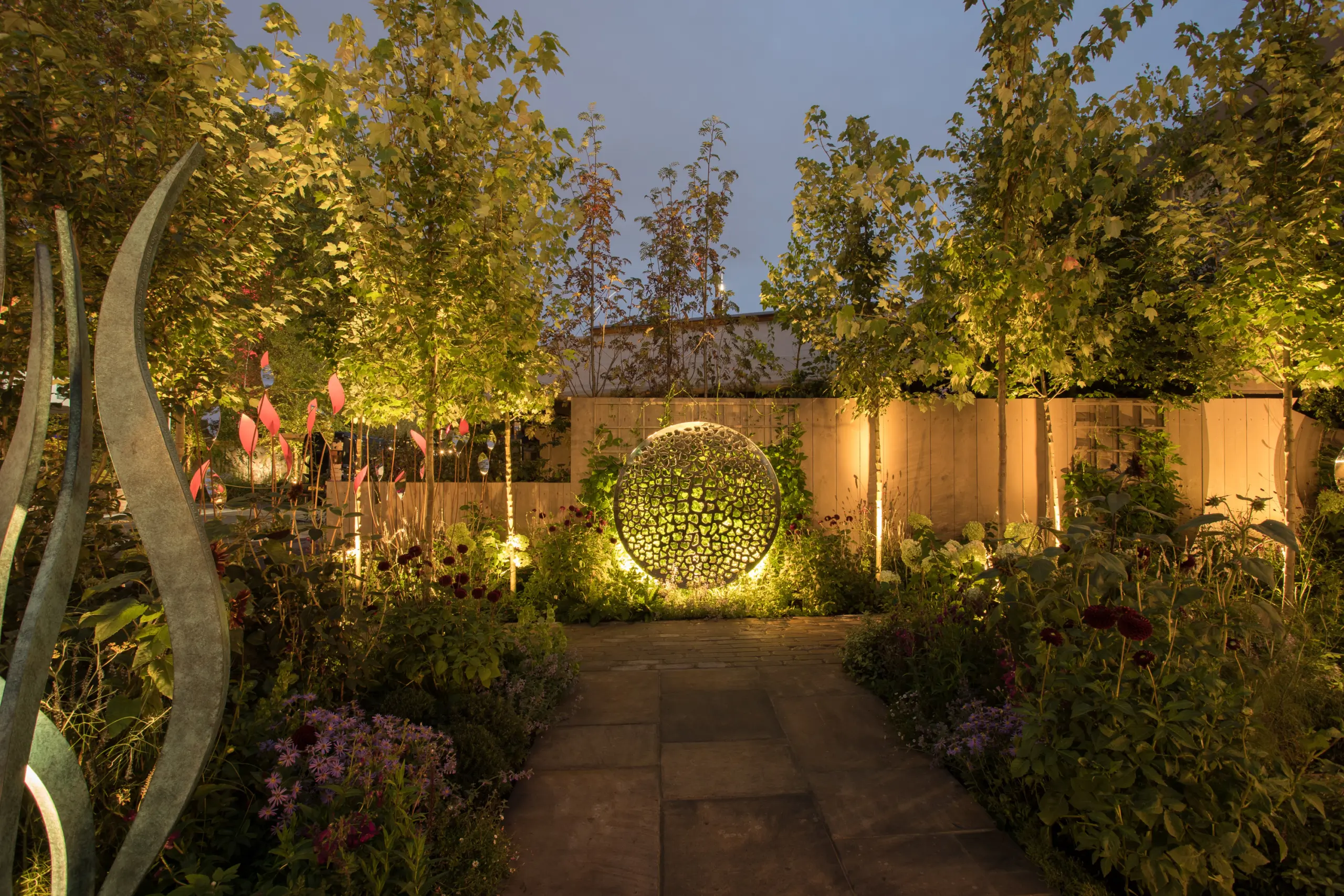 GARDEN LIGHTING IDEAS
Tips & Techniques
Creative Director Sally Storey gives her top garden lighting ideas and shows what products to use to create magical lighting for gardens. The addition of light to any garden creates a wonderful extra room at night and adds a wonderful new perspective as dusk falls, whether summer or winter.
If you are considering any outdoor lighting ideas for your garden/landscape, do remember firstly that a little light goes a long way at night. Use lighting for gardens selectively and remember that darkness can also be used to great effect – to conceal any less attractive areas. Decide on the areas you want to light, what your key features are and focus on these.
1. LIGHT YOUR KEY FEATURES
Lighting key features such as statues or key large trees ensures the focus is still on them at night. Similarly to inside, it can draw your eye beyond expending your vista. Here the trees are uplight with spiked Kew spotlights. Your way is lit along the path with Guida path lights. The sunken seating is underlit with Contour LED strip.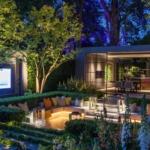 2. LAYER WITH LIGHT
As with layering lighting in your home, it is also worth considering as part of your lighting for your garden. In this wrap around garden, we used Lucca uplights to light up the bringing along with Kew's in planting to uplight the olive trees and Hampton floodlights to light the wall beyond giving further depth.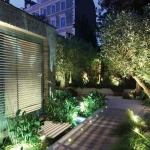 3. CREATE FLEXIBILITY
The key to successful execution of outdoor lighting ideas is flexibility. LED exterior spike lights are ideal as they can be easily moved to suit the changing seasons and planting growth. The Kew 25 spiked spotlight and a directional Hampton 25 spiked floodlight allow you to light your landscape extremely effectively so you really don't need to feel guilty about energy consumption. Most garden light fittings are black but the ones that usually blend into gardens best are olive green. Copper fittings can also be good as they patinate to a neutral green colour with age.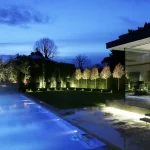 4. LIGHTING FOR SAFETY
Do light steps in your garden for safety reasons as well as aesthetics. The Lucca 30 recessed into the side wall, are ideal solutions and create atmosphere as well as reduces the risk of anyone tripping. Alternatively, for an instant garden lighting effect use night lights in small glass holders which provide a pretty way to emphasise a staircase or low level wall.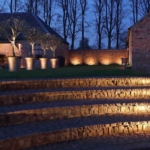 5. FIRST IMPRESSIONS COUNT
Consider how your approach to your house or front garden will look at night. This is the first impression that friends have when they arrive so it sets the scene. Outdoor fence lighting design and lighting up key features such as trees, shrubs or the facade to create a warm welcome. Make sure you avoid security lights which are glarey and will wash the space with too much harsh light. Read how to install garden lighting safely.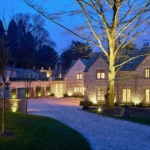 6. WATER FEATURES
Water features are a wonderful medium to light as the movement and refraction creates patterns which reflect on the surrounding area. Use a simple underwater spotlight under a water flow or, alternatively, consider using fibre optics within water jets to create a magical effect candle light or for the ultimate, think of adding fibres set into the base of a pool at random appearing almost as stars. Ask our Sales Team for options.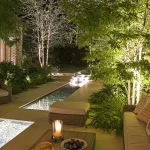 7. AL FRESCO DINING
Alfresco dining is one of our great pleasures. To elongate your enjoyment of this, think of creating an extra room at night. Think about creating a wash of light to the surrounding planting to show off the colours and flowers when it gets dark. This is best achieved with a selection of spiked LED lights which can be repositioned as the planting grows.  Consider products such as the Kew spotlights for taller more structured planting or Hampton floodlights for a wash of light for the front of flower beds or paths. If you can add a surface mounted spotlight to light the centre of the dining table. If this is not possible, add candles to the centre to add that kinetic energy.