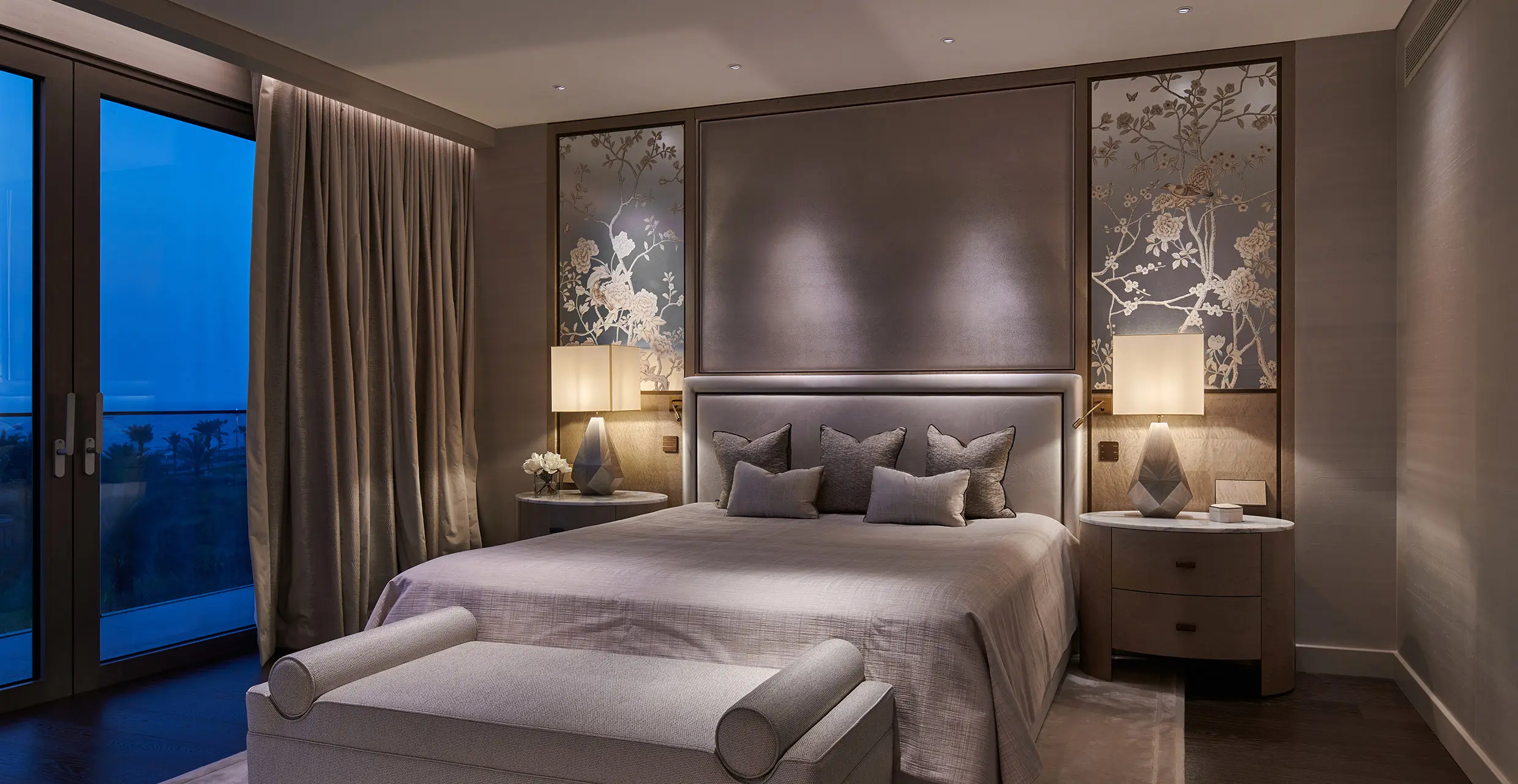 BEDROOM LIGHTING IDEAS
Tips & Techniques
Look at our inspirational bedroom lighting ideas, tips and products from lighting designer Sally Storey and see how to transform your bedroom at night. This article will give you some top bedroom lighting ideas, tips and light fittings to make the most of this much loved room.
Bedroom lighting needs to be bright in the morning and intimate and atmospheric at night to provide a romantic sanctuary at the end of the day. Traditionally in hotels, the solution has been two lamps either side of the bed and maybe a standard lamp or desk lamp. For small rooms, this may have been adequate but other solutions will add drama and atmosphere to your bedroom lighting design.
1. LED DESIGNS FOR BEDROOM WARDROBES
By lighting the front of wardrobes with discreet LED Polespring downlights, light will be reflected into the room making it look larger. When the doors are open, the light will also help light the inside of the cupboard. For a more discreet effect, conceal Contour LED strip behind a baffle vertically either side inside of the cupboard to evenly light the shelving areas.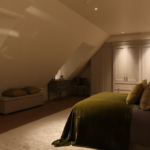 2. ADD LOCALISED LAMPS
Localised lamps provide the best sort of background lighting in your bedroom.  The best bedroom lamp design is normally to have one either side of the bed and at least one or two others. More than this and your bedroom will start to look like a light shop!  A standard lamp by a chair or a pair of lamps on a dressing table give soft background light.  Combine these with the LED Polespring for highlights to the headboard and the end of the bed for the perfect look.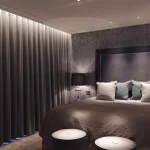 3. LIGHT YOUR CURTAINS
Curtains are a key feature in a bedroom but can look dark and hidden at night. By lighting them at night, you bring the warmth of the fabric into the room. Here we have lit them with a Contour LED strip concealed behind the pelmet to wash light down the curtains. An alternative option is to light them with Polespring downlights directed at the center of the pair.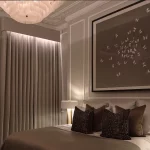 4. LIGHT A PITCHED CEILING
When you have a bedroom with a pitched ceiling, it can be a difficult space to light. Here we have cleverly concealed Contour HD27 LED strip above the beams to uplight the ceiling and provide a soft glow of ambient light in the space creating a warm and inviting room. This can also be achieved with Vorsa spotlights.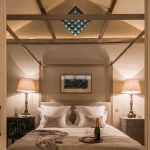 5. INCORPORATE LIGHTING INTO BEDHEAD
Incorporating lighting into the bedhead is a perfect way to add feature lighting into the room as well as a more soft indirect light. Use LED Contour strip above a bedhead or under a bedside table to create a floating effect.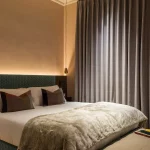 6. LIGHT ANY SHELVING
If you have open shelving in your bedroom, it is an excellent way to add some indirect layered lighting. Here we have front lit the shelves in this dressing room area with the warmer Contour HD27 to light the items on the shelving. Read more Shelf and Joinery Lighting ideas.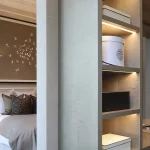 7. HAVE FUN IN A CHILDREN'S BEDROOM
For a bit of fun for children's bedroom lighting, consider a starlight ceiling above the bed. If there are recessed wall niches, one could also consider a colour change effect using RGB Contour (please ask Sales).