Tips for bespoke lighting for a self-build or renovation project
Posts
In this article, Luke Thomas, our Design Director talks I-Build through 10 tips on choosing bespoke lighting for your self-build or renovation project.

Different lights for different jobs
You can't use the same light source for all applications around the house.  Even with downlights, there are many different options available to provide a bespoke solution. Lumen output should be considered in order to provide the correct level of illumination. Beam angles and accessory lenses can help to shape and tailor the lighting effect for the intended purpose. Use wide beam angles for soft, subtle washes of light and narrow beams for sharp, accent light, ideal for a statue or vase of flowers.
Prevent glare
Glare can create discomfort and distraction. A baffled fitting will draw attention to the object being lit rather than the lights themselves, creating a more discreet and subtle lighting effect. Baffles prevent direct line of sight to the light source.
Layer the lighting
A grid of downlights provides a flat and lifeless effect, so avoid this. Different layers of light will create a textured effect which gives depth and interest, creating a bespoke solution for the space. A mix of ambient, accent and task lighting provides the best overall effects. Decorative lighting works really well to provide ambient lighting, especially if the light source is shaded so the effect is diffused. Accent lighting is often forgotten but adds immediate drama.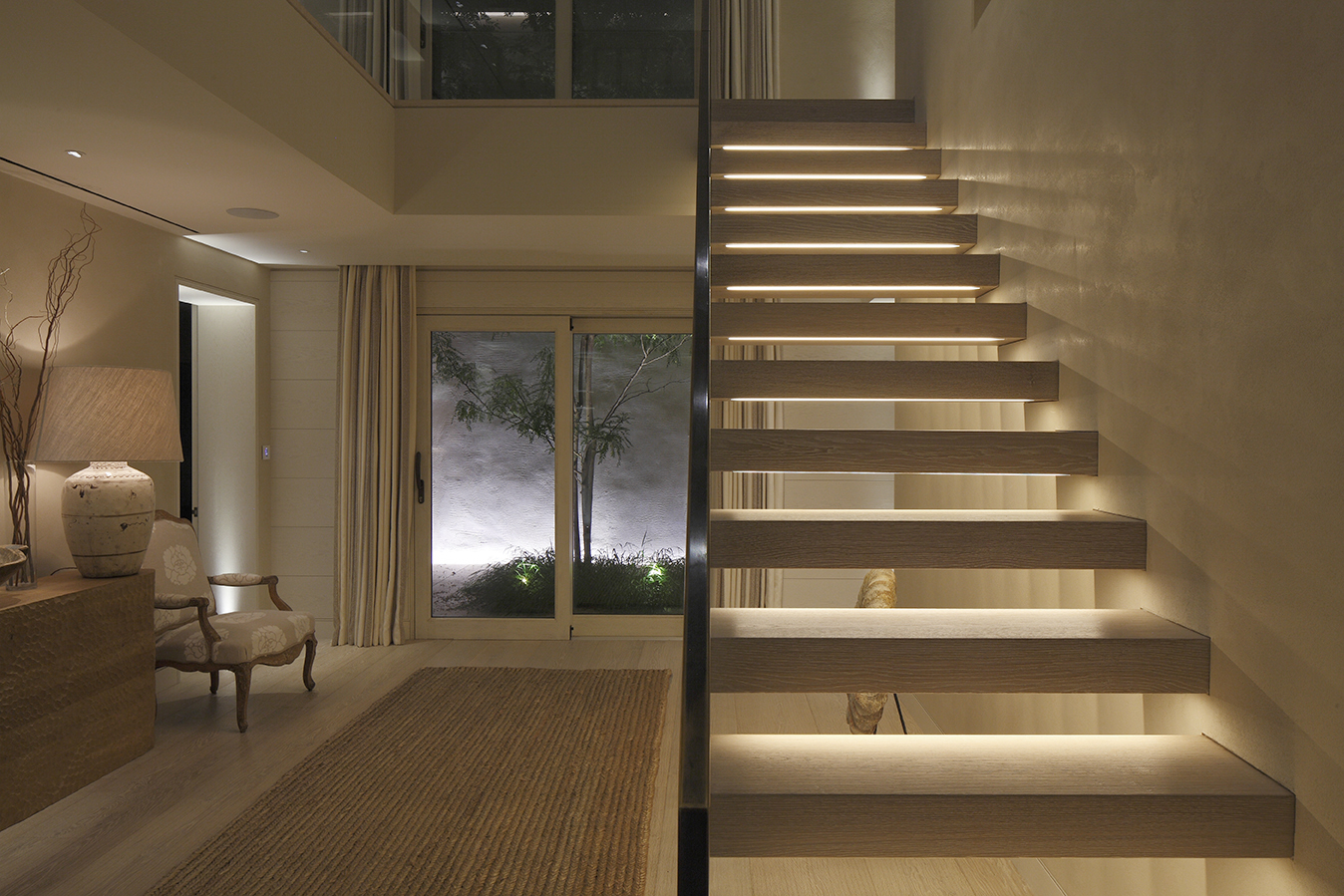 Pick an appropriate colour temperature
The home should provide a comfortable and relaxing environment but lighting with the wrong colour temperature, measured in kelvins (K), can destroy this, giving a feeling of being in a hospital or office. 2700K or warmer is a good colour temperature to aim for.
Plan ahead
The most effective lighting schemes work around the features in a space and how the client wants to use the space. This requires forethought and planning. Get the furniture layouts locked down at the design stage of the project, also try to confirm finishes as this can impact on how the light plays on surfaces. All these elements can dictate the best way to light the space so that we can maximise the impact and make it work for those who will be living there.
See true-to-life colours
The colours within fabrics and finishes, as well as the paints in artwork deserve to be seen in an accurate and true-to-life way. Artificial lighting can have a significant impact on how we depict  those colours. This is different to colour temperature and usually measured on a scale called CRI (colour rendering index). The scale indicates how well a light source will render colours in relation to a perfect light source, such as natural daylight. Aim for 90CRI or above, or be prepared for a washed out, lifeless feeling in the room.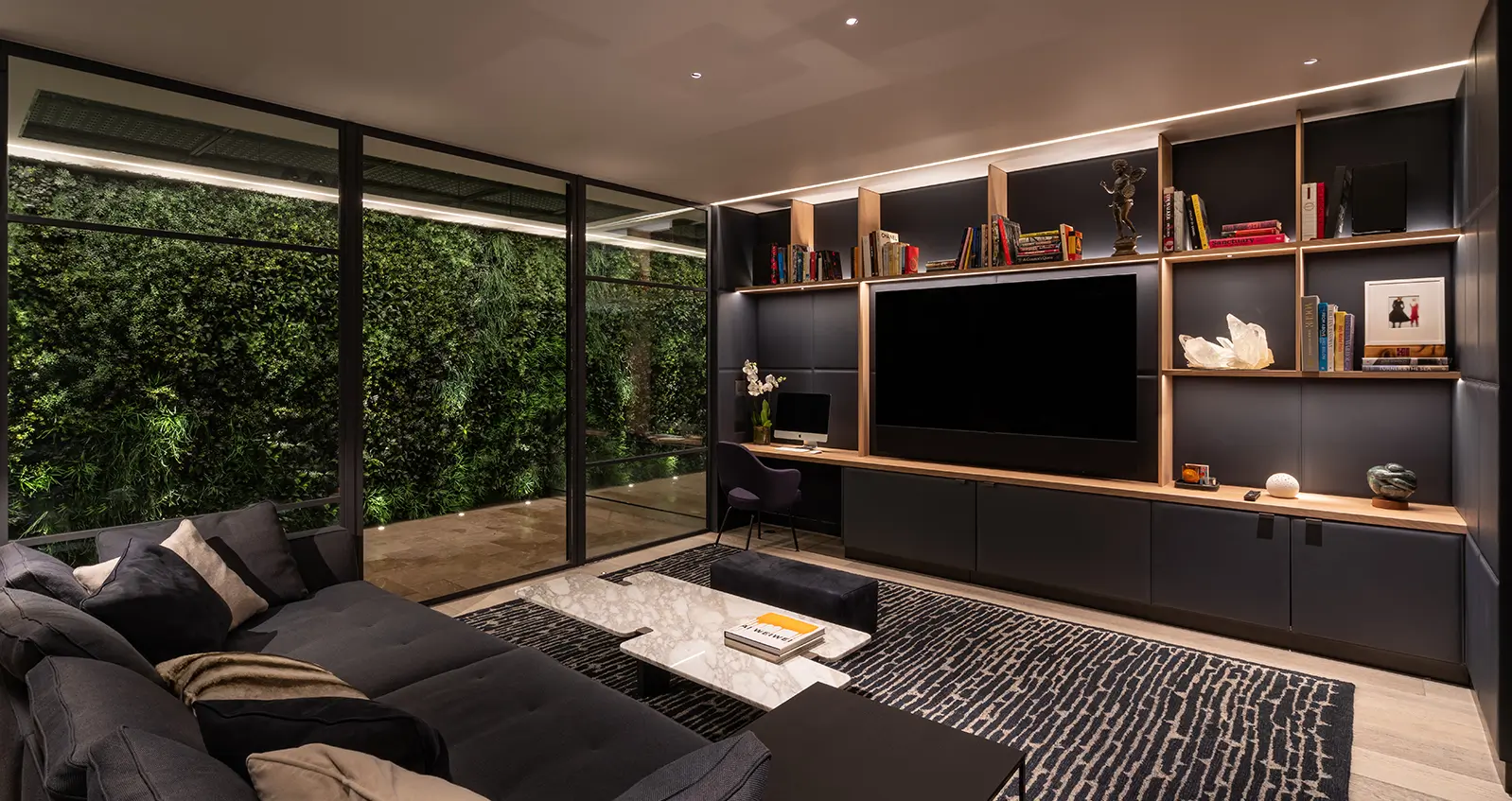 Hide the lights and reveal the room
You notice bad lighting – it stands out like a sore thumb. The John Cullen design philosophy is that the lighting should disappear into the background and go unnoticed, while subtly influencing your experience of the space. The main intention of architectural lighting design is to enhance the impact of the interiors and architecture using a discreet and considered approach. There is a set way of lighting a room. We find that lighting layouts are always unique to the client and the home.
Forget about grids of light and symmetry
A grid of downlights does nothing for a room. Instead, try to focus light where you need it for a practical task or towards a feature which you would like to highlight. We design as much with light as we do with shadow – it is fascinating to see how we can use light to draw attention to one area of a room, while concealing another. Don't be afraid to not light everything and remember that it is important where the light falls in a space and not where the light source is positioned.
Dim everything
Always give yourself the option to dim your lighting. You will be amazed by how dimming a light can totally transform the atmosphere in a room from bright and functional to soft and relaxing. This principle applies to all areas of the home, including bathrooms and kitchens. These are living spaces which need to adapt to our changing needs throughout the day. A bathroom should provide an invigorating atmosphere in the morning but at night it needs to transform into a spa-like environment.
Scene set
A step up from conventional dimming is scene-setting. A simple or more sophisticated lighting control system can provide the option of preset scene control in a room. Typically, four scenes are set in each area which are a combination of all the different circuits in the room at different dimmed levels to create certain "moods". These moods can then be recalled at the touch of a button. This set-up is perfect for an open-plan area or for the whole house.
Follow us on Instagram for more tips and techniques.