New and improved Polespring Downlight Range
Posts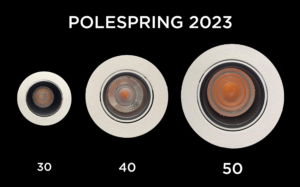 Since the conception of the Polespring in 1990, our signature downlight range has evolved over the years with technological advances. It is in our DNA to continually look to enhance and improve the functionality, sustainability and appearance of this core range. We are excited to present the next generation – the Polespring 2023 range. Here we share the new benefits of using these iconic products within your projects.
OPTIMISED PERFORMANCE
Offering you even greater light output in the smallest form is central to our design philosophy. This updated range now offers the ultimate in performance with enhanced market leading lumen output to enable you to add more light with less products to your schemes. Our LED engines have been optimsed to draw the best from our Pure, Ambi-Dim, Tune and True LED Engines offering you even greater light output.
At the forefront of our mind is always to ensure your colours look the best when lit at night. To this end, all the range now have the highest light quality >95 CRI, 98 typical offering the best colour rendition on the market.
With these exciting enhancements, an increased cut out size applied to the 40 and 50 in the range. Please see the individual specification sheets for further details.
REPAIR, RECYCLE, REUSE
We are acutely conscious of our responsibility to the environment and of the impact of manufacturing on it. We have introduced a new sustainable clip-fit assembly mechanic which allows for a truly modular design. This removes the use of adhesives which vastly improves our capability to repair, re-use and recycle our products.
NEW FINISH
We have introduced a new textured matt white finish to seamlessly blend with your scheme. The bezel has also been re-engineered to maintain our classic signature aesthetic but to allow custom finishes to be more easily achieved.
TOOL-LESS COMMISSIONING
Finally the PURE Engine range is now available with tool-less interchangeable optics, enabling more flexibility on site with quick changes of beam widths to create ultimate scheme.
See the full specification sheets here:-
THE POLESPRING – OFTEN COPIED BUT NEVER SURPASSED.