Lighting up Marine Leather at Monaco Yacht Show
Posts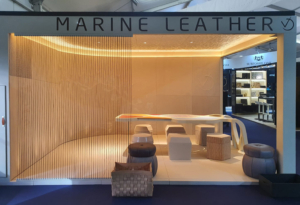 We were delighted to be once again light up the stunning Marine Leather stand at the 2022 Monaco Yacht Show. See how the marriage of perfect leather with lighting create the most beautiful combination.
Marine Leather are renowned for this luxury craftsmanship through innovative and modern leather solutions. See how we designed the scheme to showcase their exclusive textures, precision finishing and undisputed quality of materials beautifully lit at their stand.
Among products being used is our new Polefinity 40 true trimless downlight over the coffee table, the renowned miniature Lucca 30 uplight lighting up the textured leather panels and Contour HD24 to light up the textured ceiling.