Lighting up the Forest for Change – London Design Biennale
Posts
This June the Forest for Change – The Global Goals Pavilion – is featuring at the centre of the London Design Biennale and and we are delighted to be involved in the lighting of it. This forest of 400 trees will bring to life the solutions needed to achieve the Goals, showing that they are the answer to address climate change, growing inequality, and the recovery from Covid-19. Bringing trees into the courtyard at Somerset House for the first time is a bold statement that mirrors the audacious nature of the Goals.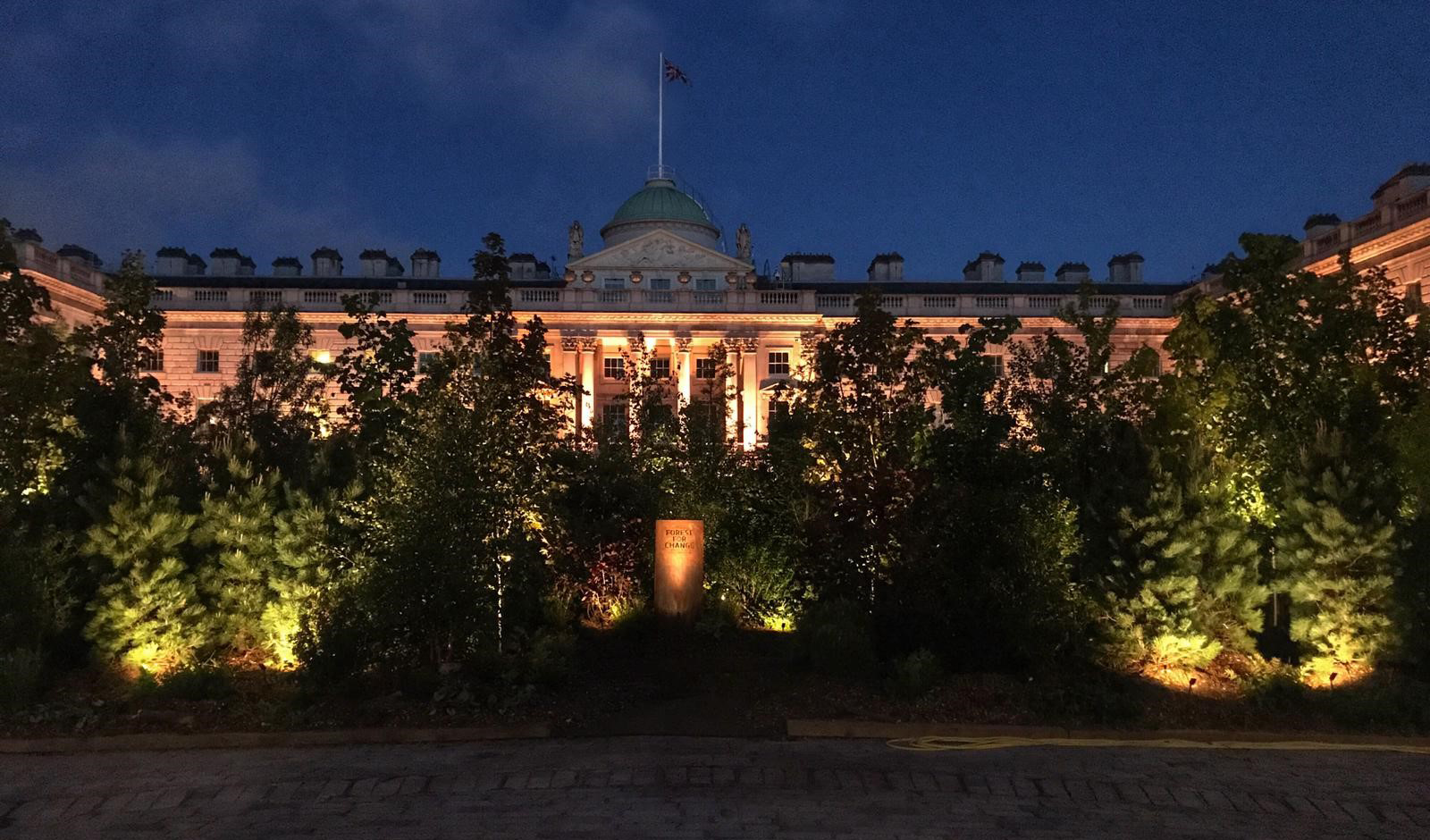 Designers Sabrina Fiorina and Matthew Allen-Olivar have designed a lighting scheme to add some light into the darkness of the forest. A selection of our Kew spotlights and Hampton floodlights were selected to achieve the effects.
Explore the Forest For Change where you'll be able to wander through an enchanted forest, created by
Es Devlin
, in collaboration with Landscape Designer
Philip Jaffa
and Urban Greening Specialists
Scotscape.
The outdoor experience is presented in partnership with
Project Everyone
, a not-for profit agency founded by Richard Curtis, Kate Garvey and Gail Gallie to further increase awareness and engagement with the 17 Global Goals.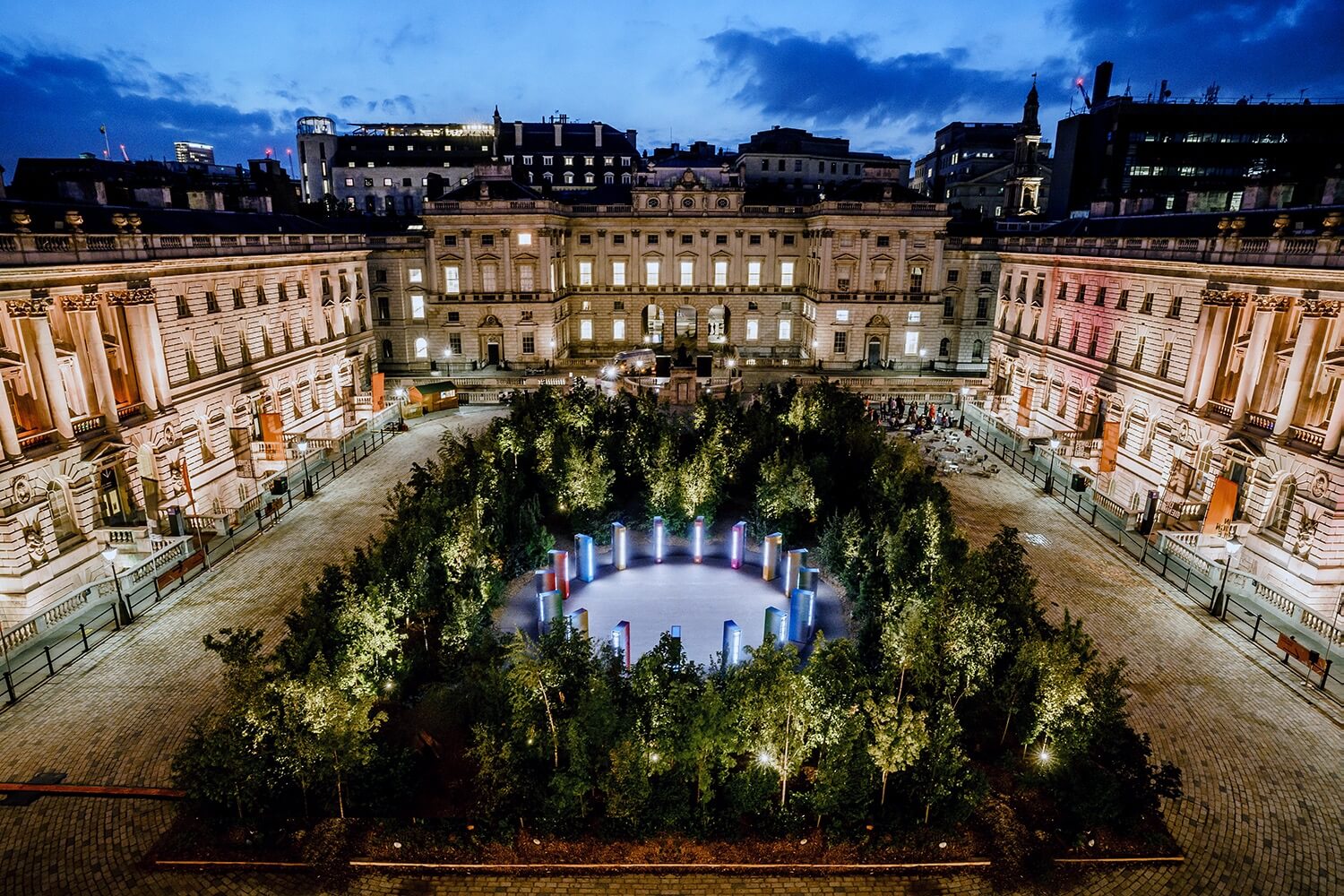 Es Devlin, Forest for Change designer and Artistic Director of the Biennale, was told that trees had been forbidden from the courtyard at Somerset House when the building was originally conceived 250 years ago. When designing this year's Biennale, Es decided to "counter this attitude of human dominance over nature, by allowing a forest to overtake the entire courtyard." In subverting the rules of Somerset House's Enlightenment-era designers, Es and her team considered the transformational nature of forests in literature to create a place of real change: "The UN Global Goals offer us clear ways to engage and alter our behaviour and it is our hope that an interaction with the Goals in the forest will be transformative."
You'll be able to wander through the enchanted forest and discover all about the Global Goals and how you can take action in support of them, in a way that's never been seen before. The forest is accessible without an admission ticket, or you can purchase tickets for the Biennale which runs from 1 – 27 June.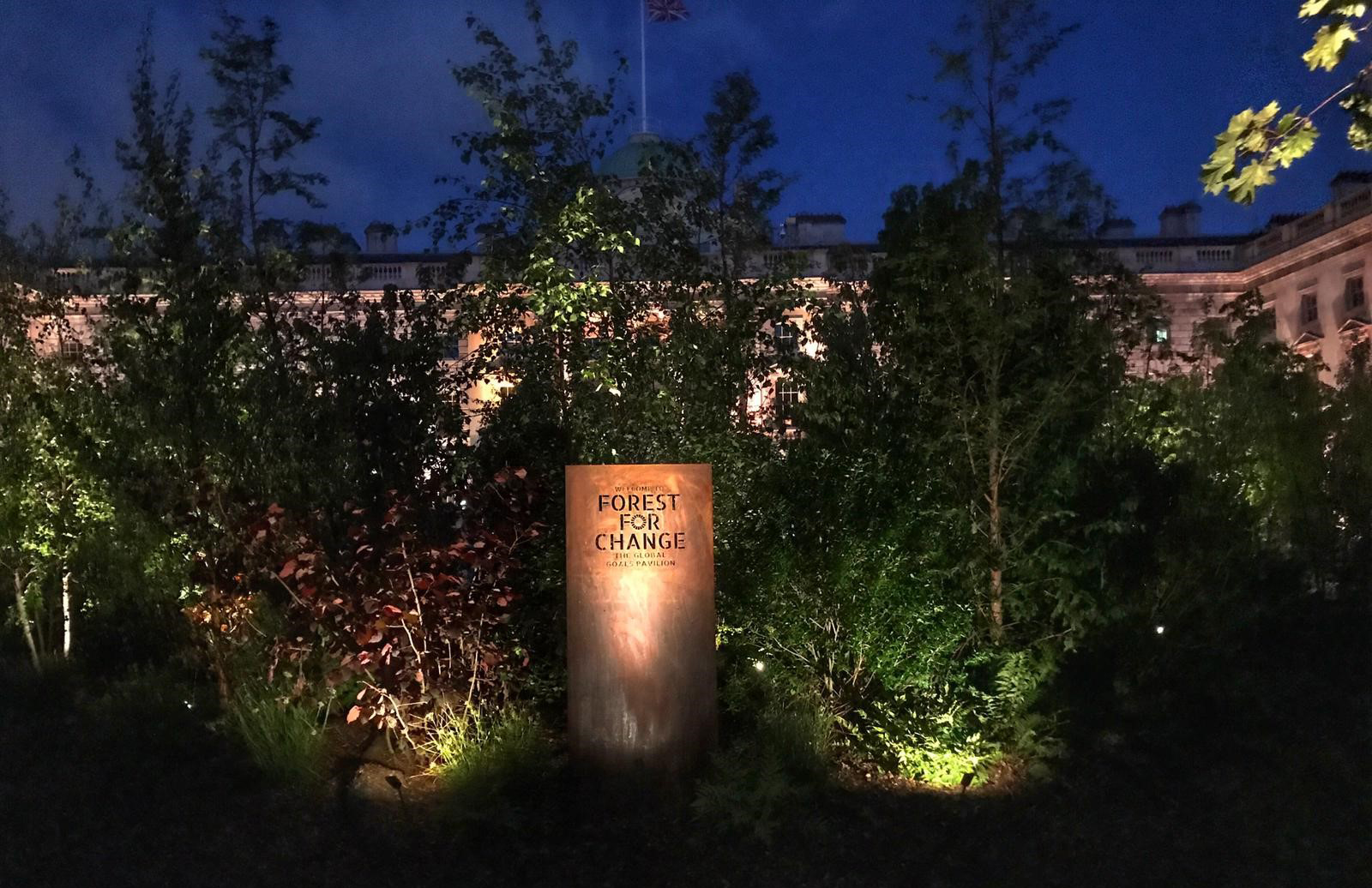 Involved in the Forest For Change
Executive Producers: Richard Curtis, Kate Garvey and Rachel Waldron
Co-Creators and Global Goals Lead: Project Everyone
Landscape Designers: Philip Jaffa, Fahmi Ardi (Scape Design)
Bird Song Soundscape: Brian Eno, Cheryl Tipp and the British Library Board
Pavilion Music: Robert M Thomas
Associate Designer: Jack Headford (Es Devlin Studio)
Production Team: Angus Cunningham, Darren Bosworth (Scotscape)
Principle Contractor: Jez Clarke, Jez Gooden (Beautiful Wonder)
Lighting Design and Luminaires: John Cullen Lighting
Sound Supplier: Andrew Hedges (Autograph Sound)
Structural Engineers: Neil Thomas, Christopher Matthews (Atelier One)
17th Pillar Executive Producer: Hannah Cameron
17th Pillar Interactive Creative Director: Tom Seymour
17th Pillar Production & Installation: Artists & Engineers, Olaya de Marcos, William Young, Francis Redman, Elise Plans
Supported by: Google.org, Salesforce
Material Partner: Amorim
Additional supporters: Pangaia, Google Arts and Culture, Bloomberg Philanthropies