Our Lighting Control Systems Guide
Posts
A control system for residential and commercial projects is the perfect way to manage your lighting and other aspects of your home and building on one interface. Turn your home into a smart home.
What do lighting control systems do and how do they work?
A lighting control system can simply control your lights for one room to a whole house or more advanced systems can also control blinds, music and so much more on a single end user interface.
A control system can range from a single/multiple circuit solution to a whole house fully integrated system allowing simple robust control from a scene setting keypad, application on phone/tablet through to voice control.
See below a handy sketch from Rako showing how their wireless system can be utilised: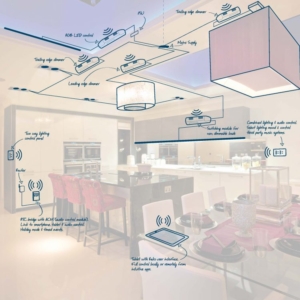 What are the advantages of using a control system?
There are many advantages of using a control system including:-
Seamlessly switch lights on and off, open/close curtains or blinds, turn on your heating and music all at a touch of a button and/or on an easy to use app allowing for global scenes to switch the whole house on or off as you enter or leave
Switch any circuit from any location
Holiday modes
Time clock control
Turn lights automatically on when you walk into a room with a PIR system
Create moods with your lighting perfect for daytime, reading, watching television and entertaining
Customise the scenes to make the most out of your open plan space
Save energy by only have lights on when you need them
Use an app to control the lights whilst you are away from your home or office
Below showcases how a control system was used to control the lights to create different moods; from no lights to a day time feel then an evening mood and party mood to late at night whilst you are sitting in the living room space.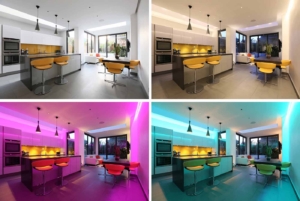 Where can I use a control system?
You can use a control system in a house, boat, one room, whole building, hotel, everywhere. It is not limited to a certain type of room or building as it can be simply a switch for one room to a more bespoke system for multiple rooms, open plan living spaces, buildings, etc.
Below shows examples of how lighting on a control system can be used to create different moods: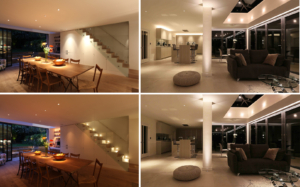 What different control systems are there?
We categorise our lighting controls into four categories; standalone, single room, multi room and whole house/building.
Check out this handy video from Rako showcasing how a control system can be used throughout the house: Whole House Control System.
See below a variety of the control systems that we offer:
Standalone:
Single Room:
Switches and Dimmers

PIR System

Rako Wireless

Lutron GRAFIK Eye 3000

Multi Room:
Whole House/Building System:
Rako Wired

Lutron GRAFIK Eye QS

Helvar Imagine

Lutron HomeWorks QS
Many of the above can be used in multiple circumstances.
What are the different types of dimmers?
There are 5 different types of dimming systems:
Phase dimming: used with decorative lighting.
Dimming via 0-10V/1-10V: used with LED architectural lights, for example downlights, spotlights, etc. Good dimming range.
DALI dimming: used with LED architectural lights, for example downlights, spotlights, etc. Very wide dimming range.
DMX: used with RGB lights.
Switch / Non-dim: used with lights that will not be dimmed.
For more information on lighting control systems give us a call on +44 (0)20 7371 9000 for UK and Europe or +971 (0) 4 554 0488 for UAE and Asia.