Interior Design Yearbook 2021
Posts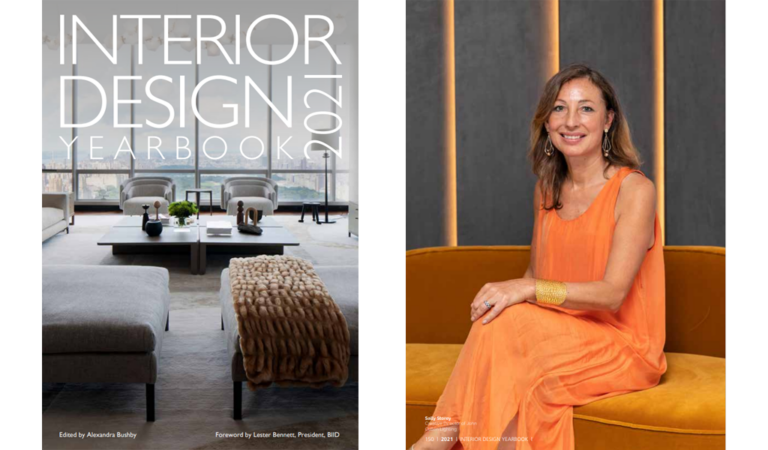 Our Creative Director Sally Storey was asked by Interior Design Yearbook 2021 to give an overview of lighting trends and tips.
Sally is one of the country's leading lighting experts. She has written three very successful, well-received books on the subject of lighting and is regularly asked to speak at top interior design events. Sally was awarded a scholarship to train as an architect at Bristol University. During this time, she started to work with John Cullen, widely acknowledged as a pioneer of modern lighting in the UK. On his death in 1986, Sally began to run the business. She recognised that, in addition to the individual clients' domestic design schemes, there was a need for a separate area of the business as a lighting design consultant on larger commercial projects such as office developments, museums and hotels. An immensely articulate lecturer, Sally has spoken about lighting at Decorex, the Daily Telegraph / House & Garden Fair and 100% Design and she also lectures at the Royal Institute of British Architects (RIBA) conferences. Sally was responsible for designing the newly refurbished John Cullen Showroom at Kings Road, London, containing several room sets and the unique lighting pod.
Lighting transforms any interior. It is the unsung hero but reveals and conceals and can change a space. Both architects and interior designers have come to understand that their designs can reach new heights with good lighting. It is an intensely collaborative process to get the best results as the lighting designer usually in a single briefing needs to understand the style and what is wanted. Often the desire is invisible light so then the negotiation begins. Is an downlight allowed or should it be a small surface spotlight integrated into a pendant. How can lighting be concealed within an architectural detail, can the joinery be adapted or if early in the design process maybe the detail can be integrated from the outset then the result is more seamless.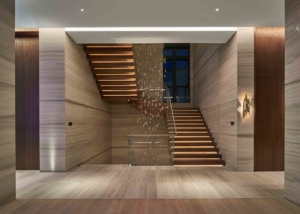 One of the key problems is the amount of bad LEDs in the market.  They are cheap with a low colour rendition which will make everything dull and lifeless and if adopted can certainly destroy an interior. Also, the light sources of the early incarnations of LED fittings were either too cool or too yellow. Now with improved LED binning and COBS (chip on board LEDs), higher CRIs are possible and warmer light sources too. A strong trend is the use of warmer LEDs and often in decorative fittings 2400K is a good colour temperature as it is reminiscent of the traditional tungsten lamp. This makes interiors more inviting again. Many people think colour temperature should not be mixed but this is not the case. Mixing colour temperatures with thought can work successfully. For example, a small focused spot onto art or flowers may look better with 2700K whereas the shelves and decorative light sources at 2400K or warmer to create a sense of drama and welcome. Also, one should consider tuneable linear LEDs so that the colour temperature can change between day and night being maybe 3000K or 2700K for day and 2200K at night. This works well on strip lighting and joinery but in downlights is still a compromise as it is difficult to achieve a narrow beam in a discreet miniature product. The low level is usually far too yellow. My recommendation is to combine colour temperatures to achieve perfect results.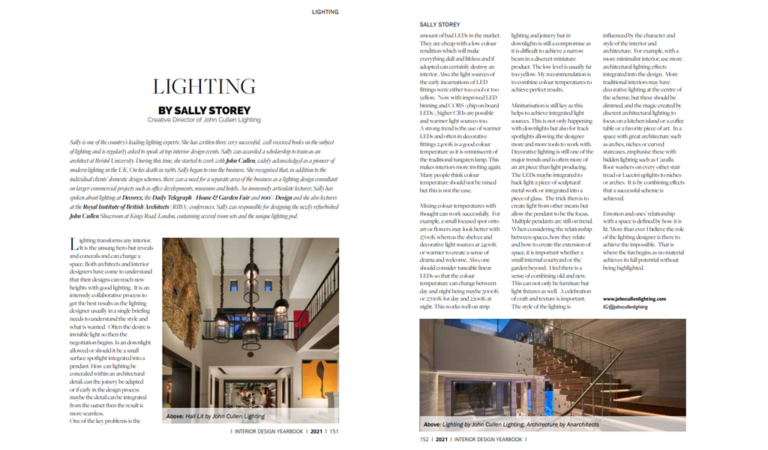 Miniaturisation is still key as this helps to achieve integrated light sources. This is not only happening with downlights but also for track spotlights allowing the designer more and more tools to work with. Decorative lighting is still one of the major trends and is  often more of an art piece than light producing. The LEDs maybe integrated to back light a piece of sculptural metal work or integrated into a piece of glass. The trick then is to create light from other means but allow the pendant to be the focus. Multiple pendants are still on trend. When considering the relationship between spaces, how they relate and how to create the extension of space, it is important whether a small internal courtyard or the garden beyond. I feel there is a sense of combining old and new. This can not only be furniture but light fixtures as well. A celebration of craft and texture is important.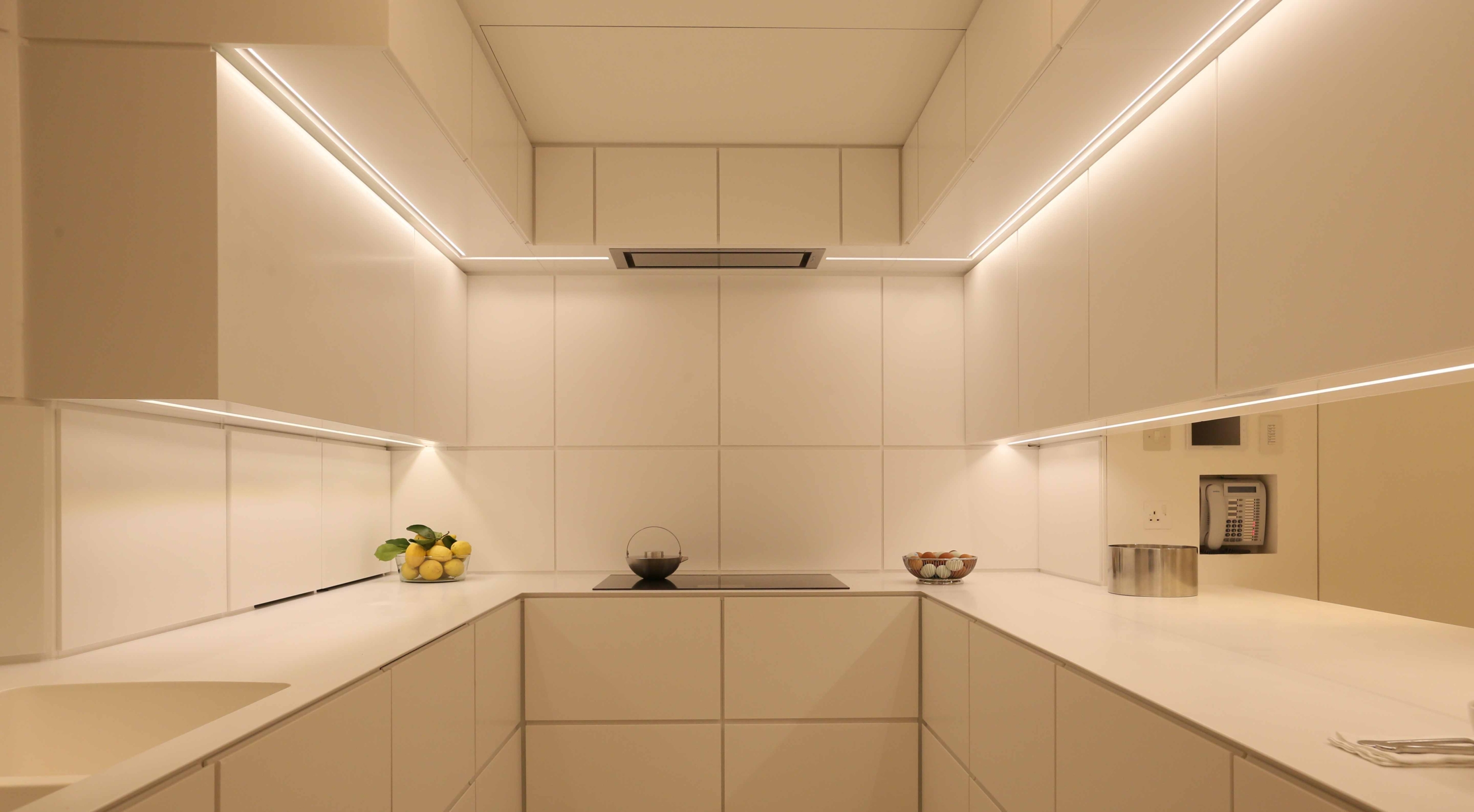 The style of the lighting is influenced by the character and style of the interior and architecture. For example, with a more minimalist interior, use more architectural lighting effects integrated into the design. More traditional interiors may have decorative lighting at the centre of the scheme, but these should be dimmed, and the magic created by discreet architectural lighting to focus on a kitchen island or a coffee table or a favourite piece of art. In a  space with great architecture such as arches, niches or curved staircases, emphasise these with hidden lighting such as Cazalla floor washers on every other stair tread or Lucca uplights to niches or arches. It is by combining effects that a successful scheme is achieved.
Emotion and ones' relationship with a space is defined by how it is lit. More than ever I believe the role of the lighting designer is there to achieve the impossible. That is
where the fun begins as no material achieves its full potential without being highlighted.
Copyright/© Interior Design Yearbook 2021, published November 2020