Shining a Light on Current Trends
Posts
In this article, Luke Thomas, our Design Director talks Inex through the seven prevailing lighting design trends in 2020 emerging from the high-end residential sector.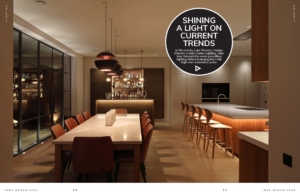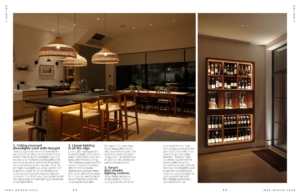 1. Ceiling recessed downlight used with thought
There is a general movement towards the minimal use of ceiling recessed downlights. Rather than banks of downlights providing an even, and mostly flat, lighting effect, the trend is to use downlights only where they are required to achieve a specific effect. For example, downlights would be used for light to artwork, a pool of light to flowers on a coffee table or to wash towards a kitchen cupboard. This effect would be supplemented with decorative ambient lighting to create the overall light effect.
2. Linear lighting all the rage
Linear LED is being used in favour of single point source lights, particularly under wall hung units for task lighting. The continuous lighting effect is more discreet and draws attention to illuminated objects and surfaces rather than to the lights themselves. It can also be used to create an architectural accent. It's very popular to position the linear LED under steps for a floating effect and is often used within aluminium profiles to create an artistic installation. The flexible tape of LEDs can be cut down to suit any measurement.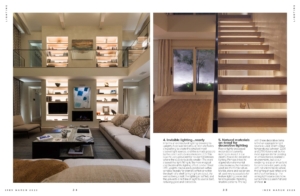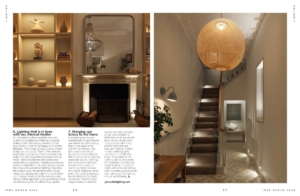 3. Smart (but simple) lighting controls
Many clients are aware of the benefits of smart lighting controls and there is no doubt that an iPad with access to control all the lighting channels within the home can give incredible flexibility. However, there is a strong requirement for simple controls that are sympathetic in style with the interiors and straight forward to use. It's now possible to have the look of a traditional lighting switch but with the intelligence discreetly concealed within.
4. Invisible lighting….nearly
In terms of architectural lighting (downlights, uplights, floor washers etc), all manufacturers are pushing to create the smallest most discreet light sources and this is made possible by the continued advancements in LED. This is particularly prevalent for residential interiors where the scale is typically smaller. The more discreet the light fitting is, the more magical and theatrical the lighting effect can be. Small LED uplights can be easily positioned within window reveals for dramatic effect or within the depth of a shelf to highlight an object. As well as being small the lighting is baffled and this prevents direct line of site to source itself, reducing glare and distraction.
5. Natural materials on trend for decorative lighting
Raw or lightly processed materials are currently making an impact in our client's choices for decorative lighting. Perhaps linked to a general environmental consciousness, the materials used are of a tactile nature. Marble, stone, and wicker are all used very successfully for feature lighting pieces and tend to provide interesting shadow patterns. The key with these decorative items is that an appropriate light source is used. Warm colour temperatures between 2200 and 2700 Kelvins will be the most appropriate for creating atmosphere in residential environments, but colour rendering is also an important factor to consider particularly with natural materials where the lighting should reflect and enhance their beauty. The wrong light source can make some materials seem flat and artificial.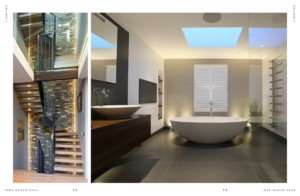 6. Lighting that is in tune with our internal rhythm
Our circadian rhythm regulates our sleep cycles and is ingrained within our physical make up. We need to pay attention to this inner clock in order to live happy and healthy lifestyles. The wrong lighting at certain times of day can disrupt our rhythm. For example, bright and blue colours close to bed time can make it harder to get into a relaxed sleeping mode. Most smart phone companies now automatically adjust their display screens to a warmer colour later in the day and we can do the same with our interior lighting. Choosing the correct colour temperature and having adaptable lighting will really help. Some lights can change colour within the same housing while another approach is to layer the light and set different scenes for different occasions.
7. Bringing spa luxury to the home
My final lighting design trend is that having enjoyed luxury experiences at spa resorts our clients are demanding that same experience within their homes. Yes, bathrooms need to be bright and invigorating in the mornings when getting ourselves up and running, but in the evenings, they should offer a place of sanctuary from the busy and hectic lifestyles we all lead. The lighting needs to be adaptable to suit both occasions. The minimum requirement is a dimmer but we can also consider a fully layered lighting effect like what we would apply to any of our other living spaces. Skimming effects over textured tiles can make an instant impact while uplights can mimic a candle-like effect. Integrated mirror lighting can be very stark so if possible, it's better to combine these functional lights with more decorative wall mounted options either side. Above all the lighting should be flattering!
To view and download the full article on Lighting Design Trends for 2020, click here.
Copyright/© INEX, published March 2020
Twitter: @INEXOnline
Facebook: @inexonline