See how we transformed the Crypt at Clerkenwell
Posts
If you did not visit Clerkenwell Design Week this year, you will have missed the most stunning crypt lighting in the Crypt of St John.  Here we show you how we transformed this 12th century crypt with 21st century lighting technology.

Previously the main aisle was simply flood lit (shown on the left) from the entrance providing a flat light throughout the space. Our designers selected a combination of our Torino fittings to uplight and model the incredible vaulted ceiling along with the new Vorsa spotlight to highlight key pieces from Michael Northcroft's luxury furniture collection.
The knave, shown on the left before, was transformed with uplights. This time our versatile 1w Lucca uplight lit the architecture with Contour LED strip placed under the two chest of drawers to create a floating effect and the alter was also up-lit with Contour adding further depth to the space.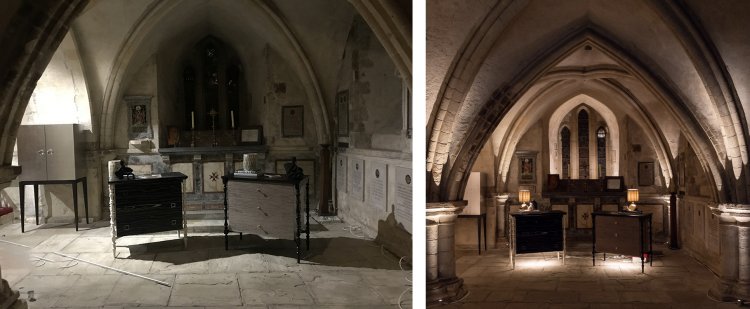 The altar was given a new lease of life with lighting seen here after on the right. The stain glass window at the rear was uplit with Contour LED strip. The arches either side were emphasised with 1w Lucca uplights and the side table in the centre was lit with our new Vorsa spotlight.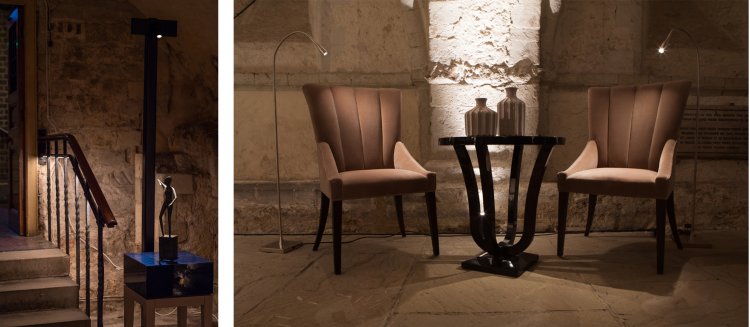 Finally the stairs to the crypt were underlit with the Contour LED in a profile whilst the side table and sculpture were lit with a narrow beam Vorsa spotlight. The seating area was also lit with two Pocket of Light reading lights with a Torino uplight behind to emphasise the texture of the wall.
We hope you agree that the crypt lighting has transformed the space and bought it to life. If we can help you bring a historical project to life to call us on 020 7371 9000.