Top Lighting Ideas for Children's Bedrooms
Posts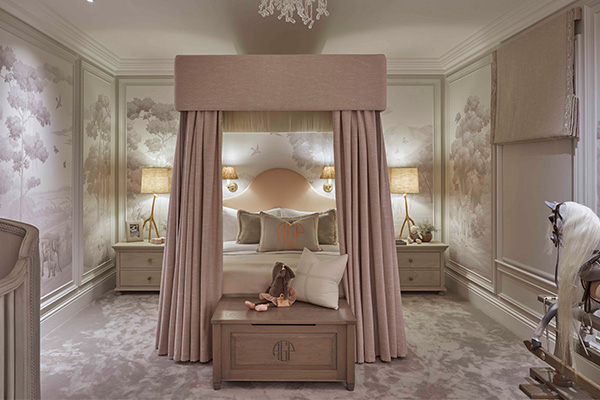 Lighting a child's bedroom allows for an element of playfulness, to make the room a lovely haven for playing and resting. But there are some considerations to think about before you begin. Lighting Design Associate Sabrina Fiorina takes us through the best way to light children's bedrooms.
What should you consider first when planning lighting for a child's bedroom?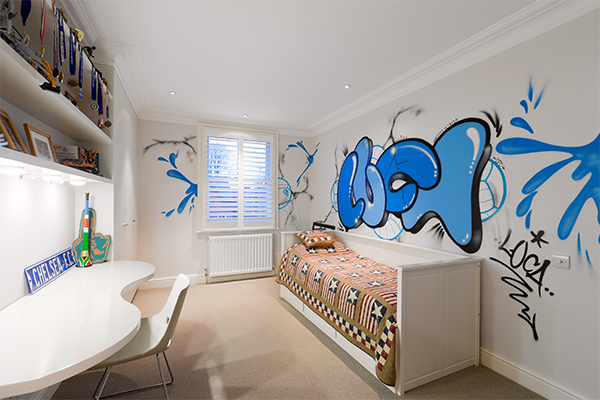 Furniture layout is the first consideration. Bed, wardrobe, desk, perhaps a rug for playing, shelving for toys and books, pictures on the walls – these can all be a focus for lighting. The combination of lighting effects around the room should create a well-balanced scheme.
These elements allow you to pinpoint key features in the space and highlight them with lighting. A table lamp might be useful for the desk, or wall lights above the bedside table to provide a soft light, or a task light for reading in bed. For young children a mood light at night is useful, too.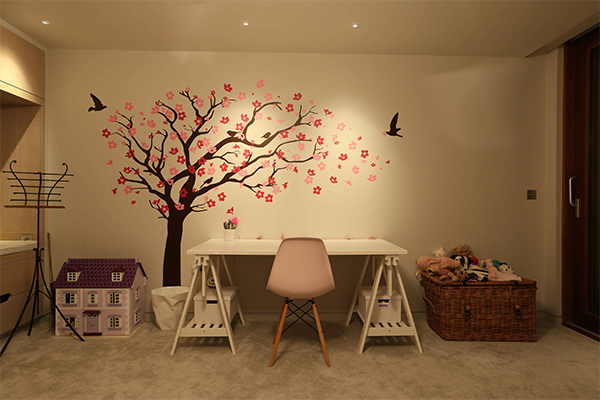 With any bedroom, I'd avoid a boring grid of fixed downlights as you end up with not very useful pools of light on the floor. Instead, use directional downlights such as our Polespring range, to wash down the wardrobe and provide functional light, plus wall lights to show off the child's favourite artworks. These will also reflect light back into the space. Ceiling lights can be useful, but placed and angled carefully, for example soft lighting directed towards the furniture.
For book cases or shelves, I recommend Contour LED strips to add a wow factor, and spots to highlight key toys. Low-level lighting, such as a Cazalla small floor washer under the bedside table or a dimmable Contour LED strip around the bed, creates a contemporary look.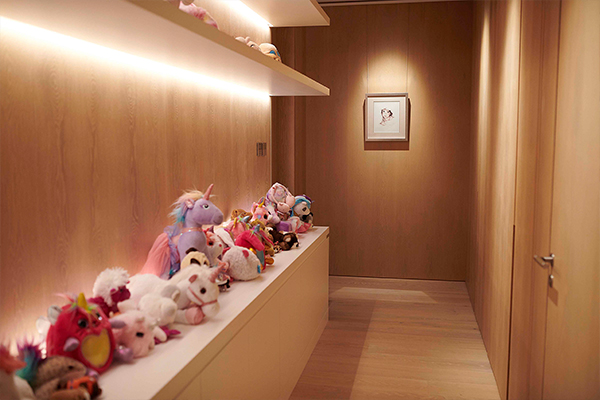 Decorative lighting in kids' rooms can be fun, such as a charming chandelier or a toy-themed pendant towards the middle of the room, or end of the bed. We can help direct people to sources of fun kids' lighting.
What about switches for children's bedrooms?
I'd have different lighting settings on about 3 different circuits. Then it's easy to switch between them, changing the mood of the space for different tasks, such as watching TV or reading a book, with brighter light at the flick of a switch for getting ready on dark winter mornings. With 3 circuits you could have the lamps on one, downlights on another, and another for lighting integrated to joinery or pendants. Read more about switches and the control systems available.
What is the best way to use coloured lighting in a child's bedroom?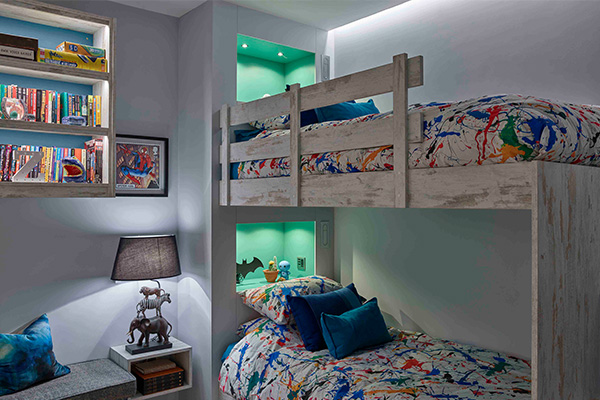 Coloured lighting needs to be handled carefully. But I think children's bedrooms are a great place to use them in a fun way, as I've described above. RGB lighting stands for red, green and blue, and the combination of these colours with white lighting can create hundreds of effects. But be warned, these can turn out badly, as different colours react differently with materials and colours of furniture. A good lighting designer will know what will work and what won't. Kids' rooms can showcase coloured lighting in a fun way, and can add to their pleasure.
What is the best way to light children's beds, such as bunk beds and babies' cots?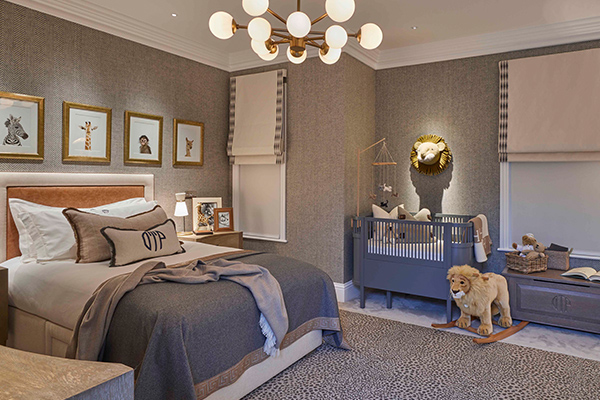 For bunk beds, make sure lighting is in a strategic location that is not dangerous for them. A few wall lights at different heights can look fun and ensure the lower bunk isn't a dark space. A directional reading light with flexible brackets is useful.
Fibre optics can also be useful for bunk beds, depending on the detail of the structure. They could be fixed into the ceiling or underneath the bunk head, to give a gentle glow during the night. There are several harnesses for fibre optics, to create different effects, like twinkling stars or larger dots. And they can be controlled to create more or less sparkle – either with a white source or a coloured RGB LED. Speak to our team about incorporating fibre optics into your scheme.
For cots, the key thing is to avoid glare in the baby's eyes. So, no downlights above their heads. Indirect light is better. A flexible scheme with lots of control on the lighting is important, particularly for night feeds, or settling a baby in the evening. I designed a very simple baby's room, with a single switch dedicated to a single Polespring downlight, which was angled towards the curtains and could be dimmed to a very low level. The parents could walk in and switch the light on at the lowest level without disturbing the baby too much for night feeds. They preferred this solution to a lamp.
Is it easy to change lighting as the children grow and the room changes?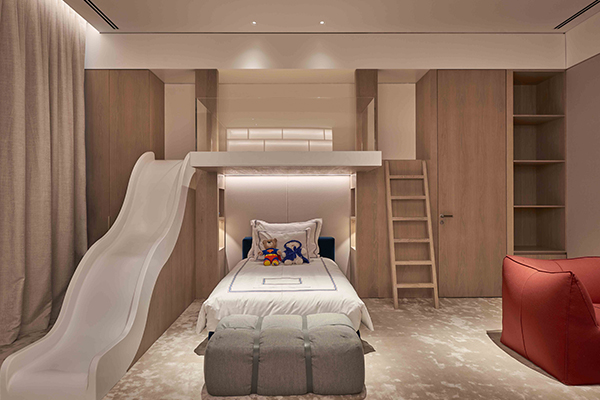 Flexibility is key when lighting children's bedrooms, as before you know it they're teenagers. I'd focus some perimeter light on architectural details of the room, because they are fixed, and have them on one circuit. Integrated light is a great tool for flexibility, because you can keep the shelving, but just replace what's on it. And if the cable is there, it's easy for us to change the details. If you have a fairly central pendant this can easily be changed from something cute to something more adult later on. It's just a case of changing the decorative element, similarly with table and floor lamps.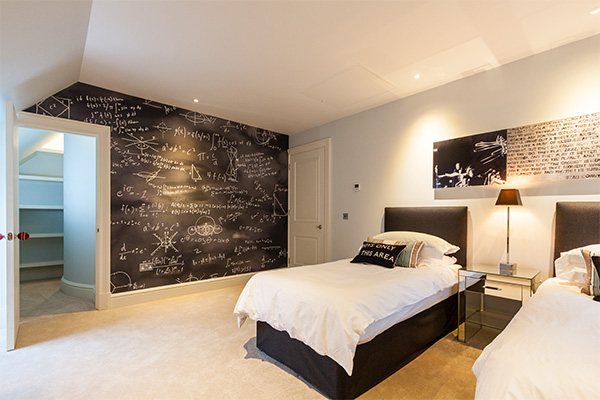 Also, plan ahead with switch positions. There will be a switch at the door, but later they might want an additional switch by the bedside. If it's possible, get these in early on, to avoid complicated changes later on.
What are some of the fun ways you can light a child's bedroom?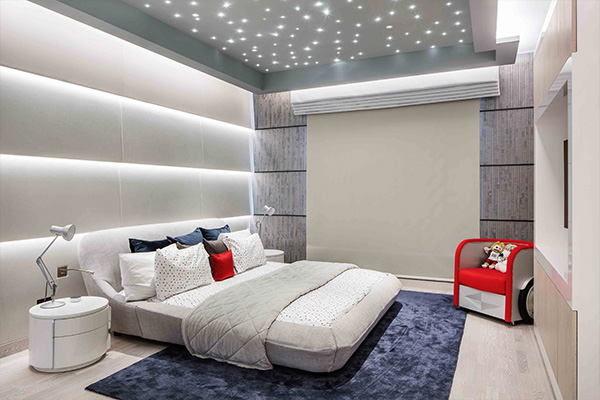 Children's bedrooms offer a lovely opportunity for fun lighting. Coloured lighting (using RGB LED lighting) can work well in a child's bedroom for certain playful elements. I recently used dynamic coloured lights on a climbing wall for a child's play space, which was touch activated, so the holds lit up when they climbed. That was wonderful.
Another playful kids' room we worked on had an enclosed slide, in which we used dynamic coloured lighting on the inside, and made use of flexible LEDs.
Fibre optics are useful, too, to create a fairy-lit or star-studded ceiling, for a magical effect. Or they can be added at a low level, on a board, creating tiny dots of light.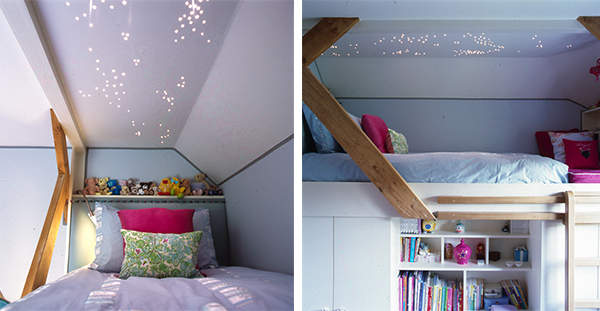 I also worked on a bedroom for two sisters who had a huge play castle as the main highlighted feature in the room. For them, it was like an artwork. This was lit with LEDs integrated in the surrounding joinery – the castle had a space of its own. It was kept softly lit at night, so that they felt that they were living in a Disney fairy-tale.
Watch the video below to see how the lighting scheme was achieved for the children's bedrooms as part of the lighting renovation we carried out at Interior Designer Sophie Paterson's family home.
Are you currently planning a project? Get in touch with our team today to see how a lighting designer can enhance your scheme.
For more children's bedroom lighting ideas and inspiration follow us on Instagram.