We have teamed up with Firefly India to showcase the latest techniques in LED lighting at their Mumbai showroom.
Mumbai showroom
See for yourself how lighting can transform a space in this lighting pod, unique to India.
The newest of our lighting pods shows why lighting is one of the interior designs' most powerful design tools. See for yourself how lighting can change the space at the touch of a button. Our latest LED products, manufactured in the UK, literally "decorate" the space with light.
Whether you are looking to light a villa or apartment or a palace or a hospitality project, our team can assist to ensure you make the most of your lighting. Make an appointment to see for yourself how lighting can transform a space.
Truly bespoke from concept to fitting to completion. We BRING KNOWLEDGE & INSIGHT TO EVERY COLLABORATION
Contact Us
Have a project In Mind? Lets do it together.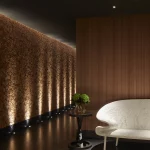 Thank you for choosing to contact us, we can't wait to connect with you. To fully understand your enquiry, please fill out the form below (it should only take a minute to complete).