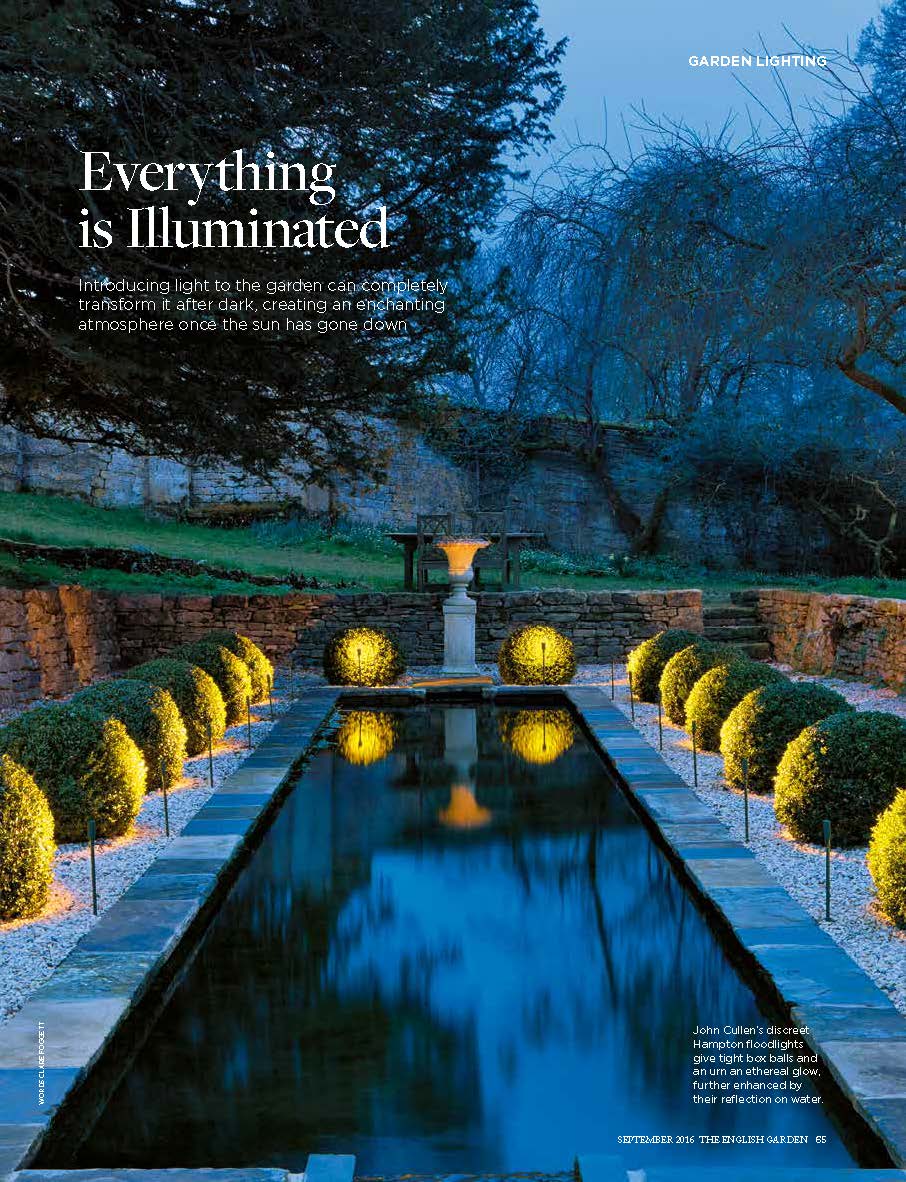 Design Director Sally Storey talks to English Garden Magazine to tell you her guide to great garden lighting. See how introducing light to the garden can completely transform it after dark, creating an enchanting atmosphere once the sun has gone down.
With tips from our Design Director Sally Storey along with renowned landscape designers, this feature will give you excellent garden lighting ideas to extend the time you enjoy your garden. It also covers a section on using electricity in garden so you can familiarise yourselves with requirements.
Sally says "By lighting your garden, you have an outside room. Visually, from inside the house, you achieve that 'inside-outside' feel as the night draws in. Whether you are outside using it or not doesn't matter – you still have that visual extension.
Sally recommends starting your garden lighting ideas picking out trees with light. "Simply uplighting trees creates that focus and it is not just for summer. In winter, even when there isn't any foliage to be lit, trees are like sculptures. Our green Kensington LED lights work really well for this. Sometimes I'll hang little Starlighters in the trees themselves, which gives an additional fairy light effect."
Pergolas, too, offer a wealth of opportunity. "Uplight each of the posts," Sally recommends. "We use our Kew LED spotlights and you can see that the effect is something that will work all through the year. Even when the foliage isn't out, it brings structure and highlights the vista. By lighting the structure you give form to the garden, and it lasts throughout the year."
"If there is water in your garden," Sally urges "consider the possibilities of reflection. Placing lights next to a water feature can bring it to life, while the effect can be doubled if lights are reflected in a still pool. For planted borders, she recommends spike lights, such as the firm's candle-like Carella fittings, spiked informally into the border where they are required. "They reflect the light down onto the foliage, like little night lights, guiding the way along paths and creating an atmosphere among flower beds. You have flexibility with spike lights – you can move them around the garden to suit how it grows scratch, or if there is opportunity when having subsequent landscaping work done, install cable routes, even if adding lighting is not on the immediate agenda. "Even if you don't know how much lighting you want, do put in cable routes with draw wires underneath your hard landscaping, so you can always add cabling later," Sally advises.
Fitting lighting into existing gardens is not as difficult as you might think, however. "Lighting often comes later, after you've finished the house," says Sally. "It helps if you have allowed switches from within the house to power outside, or if you already have an outdoor socket in place. It is easier, obviously, if you have a small garden where you can run cables around the perimeter. You can fix the cable and transformer boxes to the wall or fencing, then pull out cables to where you want the lights. In a way, garden lighting is more flexible than interior lighting. It is not like going through the plasterwork of the house. Where it becomes harder is if there is a lot of hard landscaping – terraces or stone – and how you get the cabling through that."
Click here to read the full article.